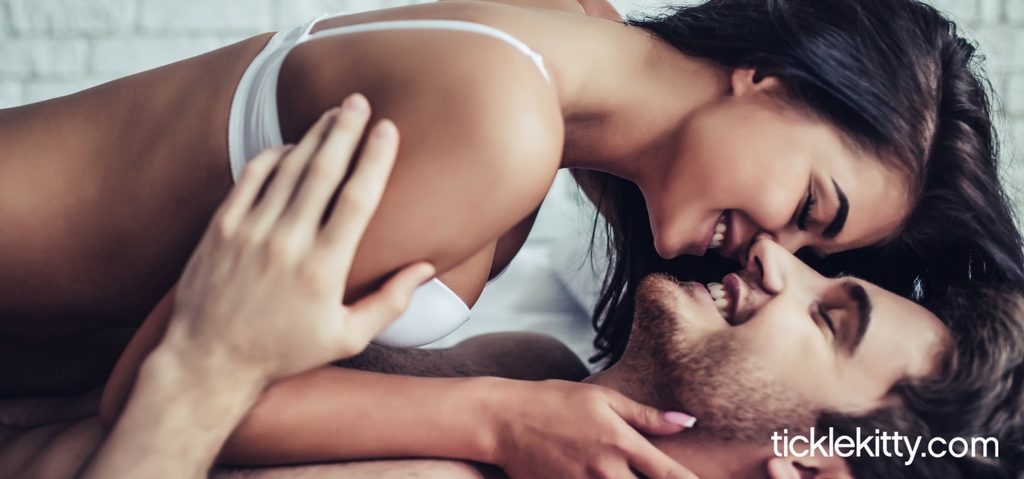 Giving great oral pleasure is an art, and if you want to create a masterpiece, you've got to equip yourself with the right tools. Even the most talented fingers, lips, and tongues can level-up their oral expertise with a drawer full of sexy accessories. Tickle Kitty has got you covered on the best vibrators, flavored lubes, and sensation-enhancing toys to play wing-man (or woman) to your mouth, and we've listed the best ways to play:
1. Keep it Wet and Slippery
Wetter is always better, especially when it comes to oral lovin'. Even the wettest and wildest babes will feel the difference between plain ol' body fluids and an extra dose of moisture from a sensual lubricant. Spring for a tasty delight like Dr. Sadie's Slippery Kitty Lube in Strawberry for an added bonus. Once you've drenched your partner's penis or vulva in strawberry sweetness, enjoy lapping it up with your lips and tongue as you explore every inch of their nether regions. For vagina owners, always double-check your ingredients, especially when flavor is involved. A healthy, hypoallergenic lube that's safe for your insides and outsides—like Slippery Kitty—will be pH balanced, water-based, and free of glycerin and paraben. Drizzle on the wet stuff like you're making an ice cream sundae and go to town!
2. Suck and Stroke
Just when he thought it couldn't get much better than a warm mouth and soft tongue, introduce your new secret weapon: a men's stroker. Penises love texture, and a squishy oral-friendly sleeve, like the Satisfyer Couple's Play Penis Stroker, brings a new dimension to your head-giving game. The Satisfyer is full of soft bumps, twists, and turns that feel incredible as they bob up and down his erect penis. Lube him up and alternate between licking and sucking his member with your mouth while stroking him with the masturbator sleeve. If you've got a sensitive gag reflex, use the sleeve as an extension of your mouth and suck on the tip of the penis while using the masturbator to stimulate his shaft. No matter how you choose to play, he'll be in ecstasy with his two favorite things: smokin' hot oral sex, and a new toy just for him.
3. Pulse and Play
Men's sex toys have been catering to blow job lovers since the invention of the wheel. It's about time the ladies had the luxury of top-of-the-line oral delights. Thanks to the Womanizer, vulva owners can now experience all the body-tingling sensations of the most skilled oral giver, all in the palm of your hand. The Womanizer uses tiny pulses of air to recreate the feeling of a gently sucking pair of lips. Although this unique toy is awesome for solo time, we think it also makes the perfect addition to couples' oral play. Hand it to your partner and use it during foreplay to jump-start the sensitive nerve endings in the clitoris. Once you're warmed up, move the Womanizer's suction cup lower on your labia while your lover gently licks your clitoris (or vice versa with a tongue on your labia and the toy on your hot button). This little oral wonder is also a great way to reach your big-O with the helping hand of your partner if you can't always climax during oral. For tireless lovers (and the occasional tired tongue), the Womanizer hits the spot every time.
4. Jump, Jive, N' Moan
There's nothing like a blended orgasm—that toe-curling combination of clitoral and g-spot climax in harmony. Bring some good vibrations to your oral session with a wearable internal sex toy, like the Jive Bluetooth Wearable Vibrator. Insert the Jive's curved, bulbous head into your vagina while letting the thinner, outer arm rest on your vulva. The flexible arm will bring those delicious vibrations to the surface as your lover swirls their tongue around and underneath it. Before you get down to sexy business, make sure you've got your cell phone handy. This sex-tech vibe connects to an app on your smart phone, where your partner can easily control the vibrational patterns with a single swipe. Givers, take note: to drive her absolutely wild, change your tongue technique every time you click to the next vibration setting. As an added bonus, the Jive teases your partner across the bedroom or across the world. When you can't get a taste of your lover, the bluetooth connection enables long-distance play time.
5. Booty Rockin'
Oral connoisseurs are always looking for their next thrill. If you've tried every sex tip in the book and are looking for a truly unforgettable orgasm, anal stimulation can be a mind-blowing new addition to your oral repertoire. Start slowly with a beginner-friendly small plug, like the Little Zinger. This gently-weighted anal toy is comfortable to insert and offers a little extra fullness as it's shape stimulates the nerve endings in your anus. Wear it while receiving oral sex and you'll immediately notice those extra tingles that can only come from teasing your tush. Once you've fallen in love with the delicious mix of oral and anal pleasures, spring for a pyrex anal toy like the Pink Daisy. Let your lover buzz you into orgasm as they take control of the Trio's remote and three strategically-placed motors while working their mouth over your vulva. If you love blended orgasms, simultaneous clitoral and anal play take pleasure to the next level.
Just when you thought oral sex couldn't get any better, add a vibe, lube, or stroking tube to bring an extra zing to your tongue skills. There's no better way to blow your partner's mind than with some spine-tingling toy tricks!
***


Explore our favorite oral love-enhancing toys from TickleKitty.com:
Amplify Your Oral Loving with These Secret Toy Techniques