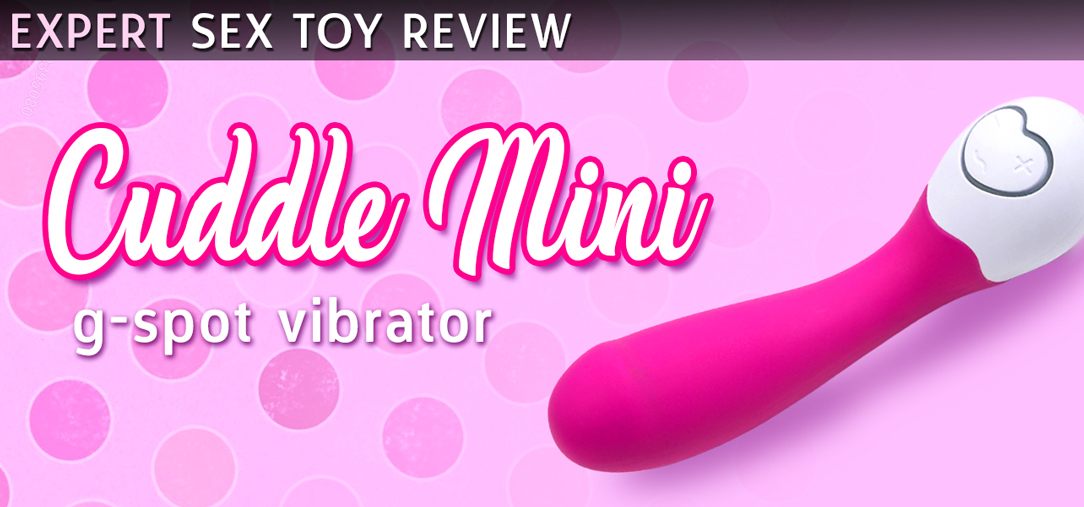 When you've seen one silicone, pink, G-spot vibrator, you've seen them all, right? Enter the Cuddle Mini, a G-vibe that goes above and beyond its deceitfully simple title. Calling it a G-spot vibrator doesn't even do the Cuddle Mini justice because this girly powerhouse has something for just about everyone. I'd even go as far as to call it a marvel of simplicity. At first glance, it doesn't get much more typical than the Cuddle Mini, but this toy takes every vibrator stereotype, combines them, and becomes the ideal sex toy.
Hard plastic and slim vibes are pleasure toy staples. The simplified, less expensive versions are usually the first choice of beginners, and the rechargeable, multi-function silicone upgrades are often the go-to favorites of aficionados. The Cuddle Mini is the perfect combination of both, and affordable even for the most broke of college student vibrator newbies. The length and girth are enough to please most body types without being intimidating or potentially uncomfortable for first-timers. Seven pulsation settings are just enough to find the strength and type of vibration you need without being excessive or requiring endless clicking.
In fact, if I had to suggest an ideal vibrator for a first-time vibe-user, the Cuddle Mini would be it. Its ergonomic curve and moderate size are even great for people to comfortably experiment with penetration, even if they've never had sex. The wider head and multiple speeds are excellent for exploring the clitoris and labia with broad stimulation. The Cuddle Mini's classy, cutesy, and discreet packaging also leaves behind the initial shyness over buying or gifting a first sex toy. Once the toy is unboxed, a satin pouch hides it perfectly among cosmetics or in an underwear drawer. The motor is fairly quiet, too, and placing a pillow over the toy during use easily dampens the sound.
For more seasoned sex toy lovers, a lower price often raises skepticism about power. In true form, though, this rather traditional vibe will surprise you. What's more, it doesn't overload you with strength on the first setting. It begins gently enough for more sensitive bodies, and then cranks up the power to keep pace with its pricier competitors. For those somewhere in-between, the patterns are a fun tease. The vibrations are of the wonderfully rumbly, deep sort that penetrate into the tissue rather than buzz like a high-pitched electric toothbrush. If cuddling and foreplay are a regular part of your partner sex, then the Cuddle Mini lives up to its name. Its versatile motor and just-right amount of settings will bring that same build-up of pleasure to your solo sessions.
All of the little extras about the Cuddle Mini are the icing on the cake. It's USB rechargeable, which is always an unbeatable feature. Body-safe material is fairly standard on most toys today, and the Cuddle Mini's silicone exterior is a nice touch, especially for beginners who are learning the ropes of effectively cleaning toys. Though it's not submersible, the Cuddle Mini can handle moderate splashing for breezy clean-up.
Even with dozens of sex toys floating around Tickle Kitty's store, a perfect ten that works for the majority of bodies and sex toy skill levels is a rarity. The Cuddle Mini is everything you could ever want in a lover: versatile, eager to please, and always just right.
***

The Cuddle Mini's perfect for orgasmic thrills anywhere. If it's got you craving more, why not give these other toys a spin – and give yourself a wide range of exciting G-spot joys.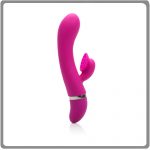 A brand new vibrating pleasure toy with a wide clitoral scoop to accommodate all anatomies, 12 intense functions and a state-of-the-art memory chip that records your favorite vibration setting… BUY NOW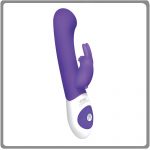 Luxurious, silky-soft G-spot arouser with dual-function clitoral stimulator. Whisper-quiet and ergonomically designed. Marked down for a limited time… BUY NOW
The Icicle—Hand-Blown Glass Pleasure Dildo
For the discerning lover—7 inches of smooth spiraling ridges. All made of durable borosilicate glass. And a breeze to clean, too… BUY NOW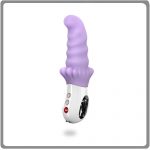 MOODY G-spot and Prostate Pleasure Vibe
German engineering, unique design and powerful motor. For him or her, delivering mind-blowing G-spot or P-spot orgasms like you never thought possible… BUY NOW




A First-Timer's Perfect Vibe