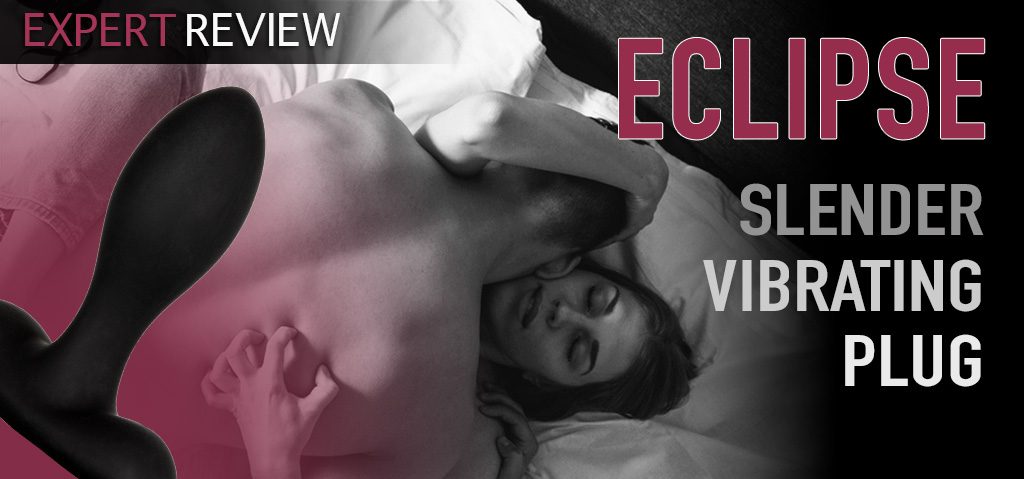 With winter upon us it's time for temperatures to finally cool down; but with that also comes the perfect chance to really crank up the heat—which made easy with the Eclipse Slender Vibrating Plug.
As someone whose closet rivals that of Morticia Addams and Ozzy Osbourne, of course this buzz-filled anal toy's sexily sleek and sophisticated all-black exterior is what drew my initial attention. From past experience using regular butt plugs, I knew they were a great way to ease yourself into multi-erogenous bliss; so taking things to the next level with one that vibrates (in 12 different patterns!) was sure to be a wild ride.
Once it arrived in it's equally as alluring box, I instantly had to bust it out. Just one stroke of the silky-smooth silicone surface was more than enough to foresee its potential. So as you can imagine, the urge to give it a whirl was pretty irresistible.
Conveniently enough my boyfriend was home, so the second we slid that night's dinner into the oven for a good stint of low and slow cooking, we ran straight upstairs to see what this little gem was all about. After getting warmed up with some passionate kissing, caressing, and shaft stroking, we were revved and ready to debut the star of tonight's sensuous show. He lubed up the plug and slowly slid it into my ass, which of course instantly felt amazing as it caressed every curve and crease—but that, my friends, was just the beginning.
With one easy push of the button, powerful pulsations shot though my entire lower body. While I'm certainly no stranger to the sensations of clitoral vibes, this feeling was different…deeper. Taking a minute just to embrace the tantalizing tremors, we couldn't help but cycle through a couple of the patterns—which range from robustly quick spurts, to the slowest of sultry build ups—just to see what pleasure-packed possibilities we had at our fingertips. But after that was established (and my boyfriend saw my now-flushing face), it was time to share in the experience.
We positioned ourselves close so our bodies radiated heat off one another and he could start swirling his fingers deep inside me. Of course with the motor-tipped butt plug in tow, each and every motion brought on a thrill that felt ten times more powerful than usual, but we both knew this was still just the start. A few minutes in, oscillating in and out of climactic tease, I couldn't take how much I wanted him. So it was time to grab the lube once again, slather it all over his rock-hard dick, and lower myself on top of him.
It was an instant punch of passion. The second he was inside me, I felt the plug's vibration transfer all the way up his penis and back into my clit itself. He couldn't get over how strongly the pulses hit his perineum and then coursed throughout the penis, and I couldn't get over how it transformed his dick into a third source of vibration cascading with pleasure. We jackhammered, then slowly grinded, jackhammered again then slowed back down, all to take in the variety of satisfaction that flowed between each other as we continued to switch between different surges of the patterns.
What felt like five minutes was actually about 45. By the time we both climaxed, we were left with a bone-shattering buzz that couldn't help but linger a few minutes after the fact. But once our euphoria began to mellow, it still felt like we could have melted right into the sheets beneath us.
So if you can get down with the pleasure perks of anal toys heightening any and all sensations, vibrating plugs like the Eclipse are a perfect addition to your arsenal of arousal. You can take it however fast or slow your turned-on heart may desire, but if one thing's for sure, either way, don't underestimate the powerful sensations this super approachable little plug has to offer.
***


Explore the orgasmically delightful sensations that anal toys offer, from TickleKitty.com: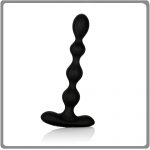 Eclipse Slender Vibrating Beads
All the fun of backdoor play made easy with the ultra-flexible, silicone, beaded buttvibe. Complete with 12 powerful buzzes to thrill you and multi-directional gyrations to astound you … BUY NOW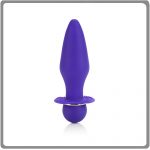 Tease n tickle your sensitive nerve endings with this popular, flared, vibrating butt plug. Complete with pleasure nubs along the base, backdoor bliss is just a click away … BUY NOW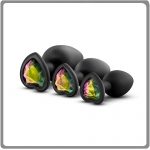 This series of three smooth, tapered butt plugs lets you start small, then move up at your own comfort level and pace. Explore these extraordinary pleasures in style, with the heart shaped rainbow gem base … BUY NOW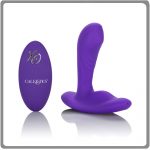 My Man Loved Using This Vibrating Plug on Me