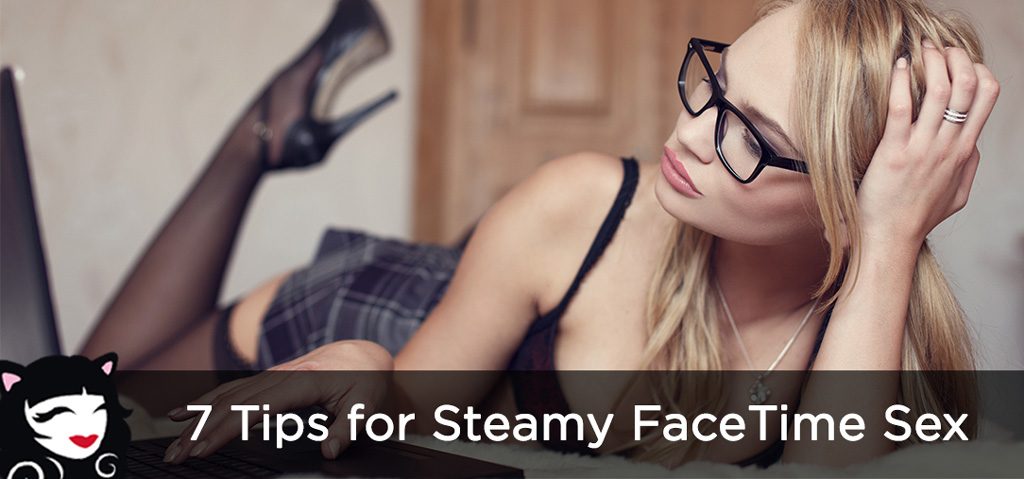 The idea of getting all sexed up for a dial-in date via my laptop or smartphone screen used to seem pretty silly. Sure, it's hard to argue with the convenience of on-demand, albeit, cybersex. But as an extroverted introvert, I can be the life of the party, but the second I'm put on the spot and have to perform, I'm a socially awkward mess.
When you're dating/seeing/screwing people who live in far off places, you have to resort to desperate, I mean, different, more creative measures. And if you're a human with a high sex drive, Kik chat, text and Facebook messages don't entirely cut it in the pleasure department.
As soon as I got the confidence to strip down for long distance lovers, Skype, FaceTime and WhatsApp became my go-tos for the virtual Big-O. What was once awkward and intimidating put a seductive visual twist on "it's good to hear your voice." Think phone sex or sexting, but on steroids.
Here's how I embraced a sizzling hot digital sex life:
1. Create a sexy space
In reality, virtual voyeurs are only going to see a tiny snippet of my living space. They're never going to see the stack of dirty dishes in the sink or the piles of unfolded laundry. Still, it doesn't stop me from creating a space in which I feel sexy. I generally don't need to make my bed for cybersex, but will light a candle, adjust my lighting, and if I'm feeling especially frisky, put on some Al Green in the background. Because nothing and no one beats this man in sexy time music.
2. Think about appearance
I don't put a ton of effort into my day-to-day appearance. Sure, I work out regularly, wear SPF (despite living in Seattle) and can pull it together when necessary. But I'm in no way a makeup-every-day, matchy-matchy kind of gal. (I also work from home.) When I make plans to "see" a virtual playdate, I try to present my best self. There's a bit of exhibitionism involved with fueling online fantasies and I prep for the part, whether it's wearing skimpy lingerie, doing a slow tease or indulging a hot mommy roleplay.
3. Request verbal consent
I'm not one to strip down in a hot second for strangers on the internet superhighway, whether it's via sexting or having digital sex. I've been the victim of naked photos falling into the wrong hands, thankfully, well before the dawn of social media. When playing with a new partner via Skype, FaceTime or WhatsApp, play it safe. Always get verbal confirmation that risqué screenshots and recordings are not OK to share. There's no absolute guarantee that someone won't still violate your sexual privacy, so proceed with caution.
4. Make eye contact
IMO, eye contact is the ultimate foreplay. A person can send a bolt of electricity through my entire body with a penetrative gaze. To be slowly undressed by one's eyes is such a primal tease. With a look, a partner can convey power, confidence and send nervous butterflies to my stomach. Eye contact is one of the easiest ways to create and deepen a connection. The more you practice, the easier it will be to perfect this important skill.
5. Stay in the moment
Don't dilute the moment by checking your smartphone. There's nothing more annoying than getting all hot and bothered, many miles away from your sweetie, only to hear and a notification tone and "I'm listening," as their eyes wander elsewhere. Do yourself (and your partner) a favor, by trying to stay present. If you live far apart, make your limited amount of pseudo-in-person time count.
6. Be vocal
When you take touch out of the equation, it helps to make up for the lack of physical connection elsewhere. One way to satisfy erotic desires is by being verbal. Don't be shy! Speak clearly and paint a sexy picture for your partner with your words – between "oohs", purrs and moans, of course. You don't have to be loud or particularly dirty to step up the sexy in a cyber date.
7. Solo or mutual masturbation
If one partner is too shy to perform, but is game, one partner can get off while the other one watches. If both people are comfortable taking pleasure into their own hands on camera, mutual masturbation can be a super-hot way for couples to connect. Don't be afraid to bring sex toys into the mix. Right now, there are a variety of Bluetooth sex toys on the market that create a more (wink, wink) interactive experience.
How do you stay connected to lovers and loved ones from afar? Send us a tweet at @TickleKitty. We want to hear your sexy time tips and tricks!
***


7 Tips for Steamy FaceTime Sex