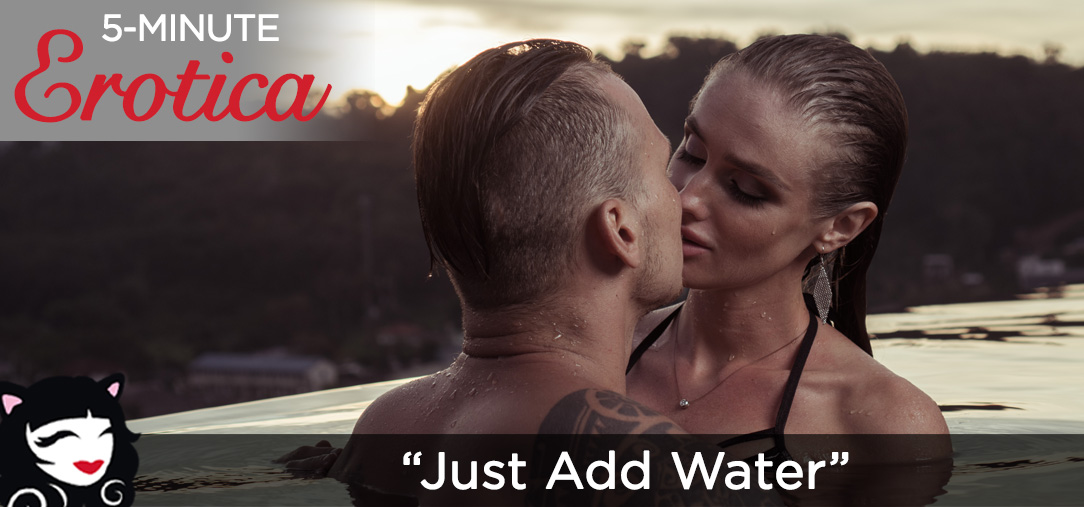 When I saw Liam arrive, my heart took off at a gallop. He looks so sexy in those jeans! Yum!
I made up my mind a week ago, and I'd been on pins and needles ever since. I laughed to myself at how long I spent finding just the right outfit two nights ago. I'd confessed my scheme to the salesgirl, and she was thrilled to be my partner in crime. We giggled like silly schoolgirls the whole time, but found exactly what I wanted. My naughty co-conspirator checked me out. "It'll be like shooting fish in a barrel," she laughed as we exchanged high fives. I couldn't wait to see if it would work.
"Hey there, pal." The tousled blonde giant gave me a big hug. "These are your new digs, eh? Congratulations! I'm thrilled for you, Sue."
Was that a bigger smile that usual as he walked towards me? Is he squeezing harder than normal? Are we already on the same page?
He kissed the top of my head.
Groan. What if I'm wrong about all of this? What if he laughs at me? Talk about humiliation. … But damn this feels good!
I abruptly stepped out of his arms because I was afraid I couldn't stop myself. "Thanks, pal." That's what we called each other at the office. "Pal." And that was why it took us so long to get here … or at least where I hoped we'd get.
His electric blue eyes were so hypnotic, I couldn't talk straight. "Uh … thanks … for coming … um …… go on inside … and … uh … get something to … uh …eat and … drink."
Get it together, girl. You sound like a mindless bimbo not a high paid executive!
When he brushed my hair out of my face and tucked it behind my ear, my knees buckled. I fell against him and quickly righted myself. "Sorry. New shoes. Slippery soles," I lied.
He looked back seriously. "Are you OK? You look flushed."
"Sure. Yeah. I'm fine. No problem." I blurted it out ten times faster than normal. "I've been out in the sun all day. That's all it is. I'm fine. It's just the sun. It's makes my face a little red. I'm good. Really! I'm OK."
Will you please stop rattling and shut yourself up!
I took a deep breath and centered myself. "Sorry. Nervous about meeting my new neighbors. Wander around. Go inside. Check out my castle. I've got to schmooze."
The next two hours were an eternity. I'd never checked my watch so frequently. And I couldn't help scanning the party every couple of minutes to make sure one of the sweet young things who showed up didn't have her claws in Liam.
As soon as my last neighbor left, I knew my 'pal' would offer to help me clean up. "That's really sweet. I'll take you up on it. But first, are you going to keep your promise?"
He looked surprised. "Teach you to swim? You want to start today? Sure. Let me grab my suit from my car. Lucky you. I was surfing before I came here."
I laughed. "Lucky, my ass. The only time you aren't surfing is when you're on the job. Use the guest room. I'll meet you by the pool."
I couldn't get changed fast enough. I was so nervous I almost forgot to cut the tags off my suit and cover-up. Focus, girl! Take a breath. After sliding into my sparkly sandals and putting on my biggest sunglasses, I stood in front of the mirror and smirked. The picture of innocence. A virginal white one-piece with a scoop neck that shows no cleavage, and a white long-sleeved coverup buttoned almost all the way up.
Liam was swimming laps, so I hung back and admired his bronze, muscular body. Even though he was wearing board shorts, the way they clung to his behind was everything I'd hoped for.
After a few minutes of drooling, I walked close enough so he'd see me. He stopped and stood up. His wet, cut body was amazing. He wiped the water from his face and looked at me. I studied his expression. We'd worked together long enough that I could usually tell what he was thinking. Definite curiosity. Good!
"Into the pool, tadpole."
I saluted sharply. "Yes, sir."
When I unbuttoned and removed the cover-up, I was sure I saw a flash of disappointment. Perfect! He hoped for something sexy!
But when I turned around to put my cover-up on the chair—and then dropped it so I'd have to bend over and pick it up—I was sure I heard a muffled Holy shit! Backless with a G-string! I tingled all over knowing he was admiring my ass.
I turned back acting as though nothing unusual had happened. He blushed and looked quickly away. Gotcha! He's interested.
I walked down the stairs into the pool. "OK, coach. How do we start?"
He took on a professional demeanor. "Take my hands. We'll start by walking out to where the water's up to your waist. Then, we're just going to dunk up and down five times, making sure our heads go under water. I'll hold on the whole time, so you're safe."
Perfect!
By the third time, my suit was completely wet—and, as designed, virtually transparent! Coming up out of number five, I pretended to stumble and pressed myself against him. His hard cock told me everything I needed to know.
I stepped back and gave him a naughty wink. "You know, I think I'm really going to like learning how to swim, pal."
He laughed when I said "pal," then looked at my body with such intense desire, my flesh tingled. No question. This mission is a 'go'!
It felt like his hands were already running all over me. My dark nipples stiffened and pushed against the tissue-thin fabric. My heart pounded so hard it felt like my chest was about to explode. I felt warm and hungry deep inside. Every cell in my body screamed, Please! Please! Please!
"There's only one problem, pal," he said with a sexy smile. "That suit isn't really appropriate for swimming. Not hydrodynamic enough. Too high a drag coefficient."
I admired that he could actually say that with a straight face.
I put my finger against my cheek. "So, what do you recommend, kind sir?"
In a flash, he grabbed the shoulder straps, yanked them down to my waist and pulled me against him. I squealed in delight as my breasts pressed against his hard chest. Cradling my head, he kissed me passionately. As our tongues entwined, I moaned. I ground my mound against his stiff cock, and he let out a deep guttural groan. He grabbed the back of my suit and, with one powerful pull, I was deliciously naked. My mind was so drunk with passion, I didn't see how he got his trunks off so quickly. His hands squeezed my aching breasts, and his warm, stiff dick slid between my legs and nestled against my lips. I closed my eyes and luxuriated in the moment. "Oh, Liam!"
"Oh, Sue," he moaned. "I've wanted you from the first moment I saw you. I have never wanted anything more in my entire life than I want you right now." His voice was thick with a primitive hunger. His cock pulsed hard against my pussy. I opened my eyes and saw the look I'd dreamed of. Pure, raw, desire by this fantastic man for me. I melted against him and my heart exploded. Our hands roamed all over each other. We kissed for what seemed like a blissful eternity.
When we came up for air, he pressed me against the side of the pool, spread my legs and penetrated me. I gasped as my pussy stretched to welcome him. Never had I felt so full, so complete. I lost control of myself as he pounded into me, splashing water everywhere. "Oh Liam! Fuck me! Oh fuck!" His steady rhythm and animalistic grunts shot me higher and higher. I wrapped my legs around him, squeezed and took him even deeper.
"Oh God, Sue. … So tight! … So warm! … So fucking amazing!"
When his cock swelled, throbbed and pulsed, he sent me over the edge. My cunt spasmed hard around his dick, and we both screamed out as we shook in ecstasy.
We remained fused while our bodies settled down. I squeezed my legs tighter. I wasn't ready for this moment to end, even though my heart assured me this was only the beginning for us. We kissed tenderly.
Then he said with a naughty smirk, "You know, you're really good at this. Are you sure you didn't already know how to swim?"
***

The Icicle—Hand-Blown Glass Pleasure Dildo
For the discerning lover—7 inches of smooth spiraling ridges. All made of durable borosilicate glass. And a breeze to clean, too… BUY NOW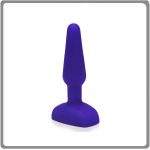 Trio Triple-Vibe Remote-Control Plug
The most luxurious toy for backdoor partner (or solo!) fun. Simply slip it inside, and hand the remote to your lover to put them in control of your backdoor bliss… BUY NOW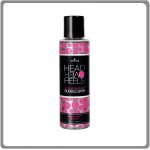 HeadOverHeels Pheromone-Infused Bubble Bath
Draw up a romantic bubble bath for one with this heady concoction of passionfruit and guava. Steamy self-seduction is exactly what you need to clear your head… BUY NOW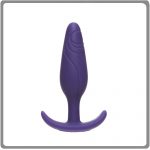 The Mystical Mushroom Mini Plug
Your body is a Wonderland. Start exploring it now! Soft, flexible and elegantly patterned – this plush little plug is the perfect companion to take down the rabbit hole… BUY NOW

5 Minute Erotica—"Just Add Water"