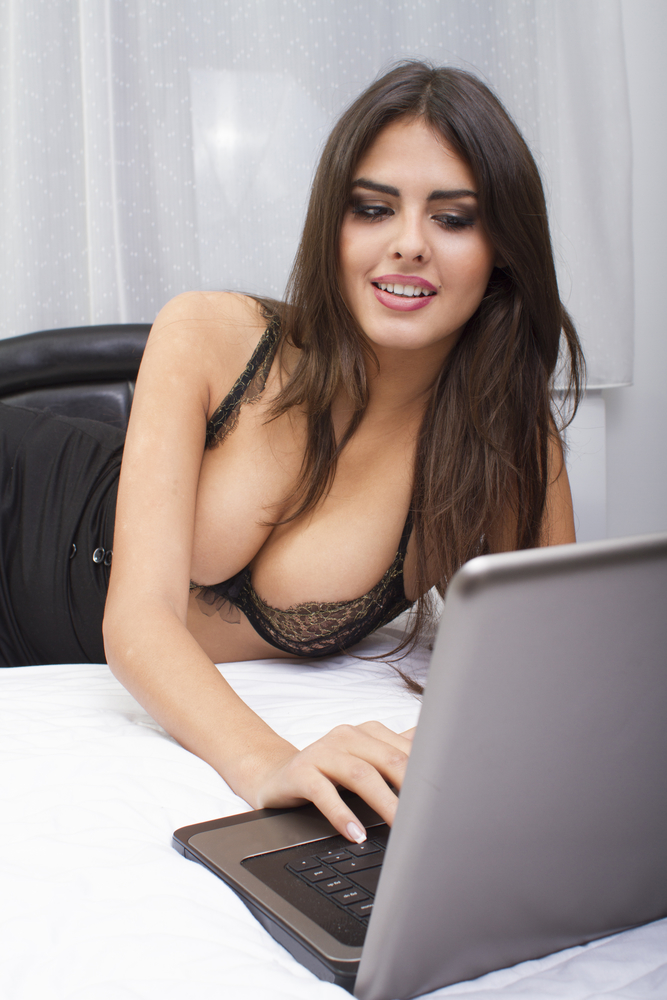 What do sex and smartphones have in common? We can't seem to go more than 20 seconds without thinking about either one!
Now you can combine your two obsessions with one (or all) of these arousing apps. Created with your pleasure in mind, you can turn your smartphone into a portable erotic library, masturbation machine or even a functioning vibrator all with a few simple swipes. The sky really is the limit when tech and sex join forces.
Check out some of my current faves:
Literotica – Need a little 'sex'-piration to get in the mood? Enter Literotica, an alluring app that has more than 250,000 FREE erotic stories ready to get you going right now. Whether you're looking for a 50 Shades of Grey inspired saga, an arousing anal adventure, or fetish-fueled fiction, Literotica has something guaranteed to get your juices flowing.
HappyPlayTime – Let your competitive spirit shine with this masturbation gaming app. Complete six levels of alone time lovin' to win the big prize—a mind-blowing orgasm. This is a great tool if you're a little shy about going solo or want to learn some new tricks. It also makes a great companion to my book, Tickle Your Fancy: A Woman's Guide to Sexual Self-Pleasure. Shut your bedroom door, download the app, open my book, and let the good times roll.
Romeo To Go – Running out of ways to woo your lady? Romeo To Go is here to help clueless dudes turn an average date into a romantic rendezvous every time. This free app helps you set the mood with romantic playlists, love note reminders, and even has a portable firelight feature you can whip out to make a meal at McDonalds an amorous affair. Your girl will love the attention and will be more than happy to return the favor between the sheets.
I Just Made Love – Think of I Just Made Love (IJML) as the Foursquare of hooking up. Create your own personal love map, compare sexy spots with other couples, and see who's hooking up where in your own town. Whether it's on a boat or in your bed, share your sexy story with other IJML users.
iCondom – The evening is going great—in fact it's going more than great—because you're about to get laid. You're just about to take the passion plunge when you realize neither one of you has a condom. Talk about a dick deflator. Hit up iCondom stat to activate the world's largest map of condom distributers including 24-hour stores in your hood. The app even lets you know if your go-to machine is out of order so you'll spend less time at the supermarket and more time having steamy safe sex.
Kindu – Do you turn beat red every time your lover tries to whisper his deepest, darkest fantasies to you? Shield yourself from erotic embarrassment with Kindu, an app that lets you share your most private thoughts without judgment. Choose 'yes,' no' or 'open to discussion' from more than 800 intimate ideas and only see which ones you both matched on. If your partner passes on something you liked (playing out your sexy doctor/nurse fantasy for example), your secret stays safely locked away until you're ready to share it with them.
Spreadsheets – This isn't your accountant's spreadsheet! This saucy application lets you keep record of all your dirty deeds in the bedroom including how long you average, the level of decibels reached during climax, and even how many thrusts you average a minute through the phone's accelerometer and microphone. Being organized never felt so good!
Sexy Vibes – The name says it all. Sexy Vibes is an app that turns your average, boring, ol' smartphone into a ravishing receptor of pleasure. The self-proclaimed "part chat room, part sex toy, and part speed dating service," lets you connect with more than a million users who want to vibe with you. Control toys from your phone or pick from thousands of vibrating combos for your own special solo sesh.
Steam Up Your Sex Life with These Arousing Apps