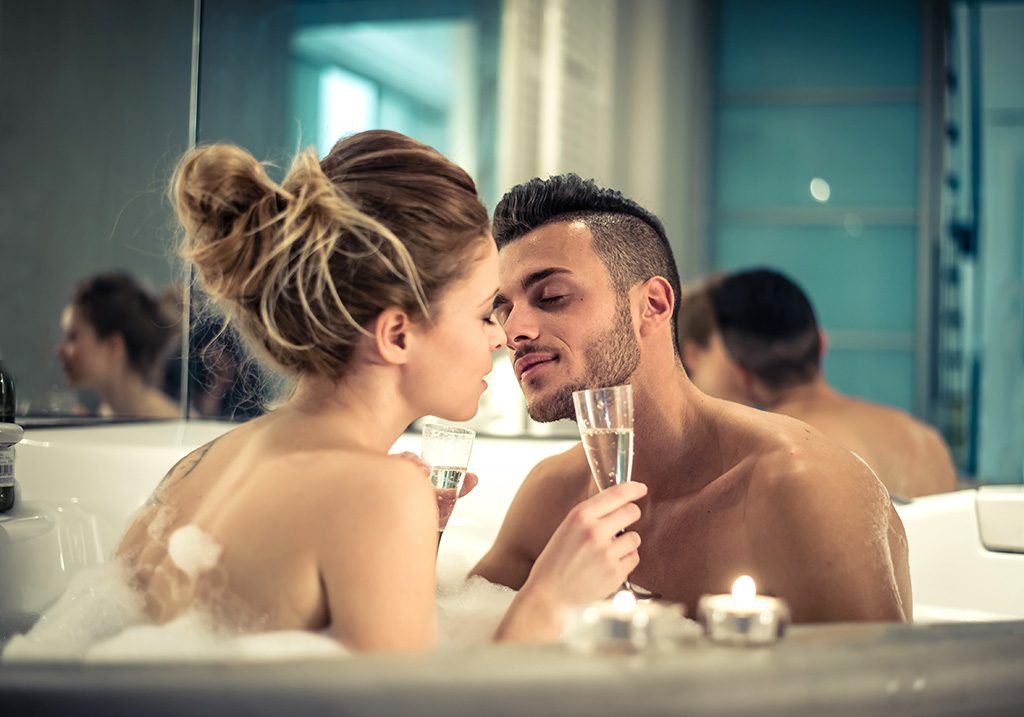 Have you been acting more like an old married couple than two lovers in lust lately? Remember when you were that couple? You know what I'm talking about; the twosome who held up the drink line at the bar because you won't stop making out; the pair constantly making googly eyes over brunch; the duo whose friends joked invented PDA because you couldn't keep your hands off each other for a minute.
When a relationship is first heating up, things can go from hot to heavy within seconds. But with time comes familiarity, which leads to routine, which can end in boredom. You don't want sex to become just another chore! There's no time like the present to pump the passion back into your relationship. These five erotic play dates will get you so worked up, you'll want to rush home to rip each other's clothes off just like when you first got together. So, what are you waiting for? Let the sex games begin!
Sex Toy Cruising!
Variety is the spice of life, especially when it comes to mixing things up between the sheets. Combine role playing with a date to your local sex shop and you have a recipe for one steamy night out. You don't have to buy a toy in order to experience all the pleasures they bring – just figuring out what turns you both on is great foreplay.
For an even sexier experience, arrive separately so you can "bump into" each other as you peruse the adult videos and vibrator section. Ask this sexy 'stranger' for advice on a sex toy you're looking to buy for your partner, then lean in and whisper what you'd really like to do to them with it. Make eye contact and follow each other to the next display. Play with the different dildos, whips, and cock rings and take turns guessing which ones you think each other's 'partner' would enjoy the most and tell them why – down to every last graphic detail.
Bonus points: Keep up the sexy shenanigans by renting a cheap hotel room to test drive your new purchases before you "bring them home to your partner."
Stare Me Down
Remember when all it took was one sideways glance and you were all over each other? Well that's because two of your biggest turn-on tools are your eyes. Tap into your sensual side with this simple and sexy game and you'll be all over each other in no time.
First, buy your favorite bottle of wine (or tequila!), light some candles, and turn off any outside distractions like cellphones or the television. Tonight it's all about focusing on each other. Like I said, the game is an easy one to pick up – all you have to do is stare deeply into each other's eyes until someone cracks. The first one to break or laugh has to whisper something dirty into the other person's ear. If you both have crazy poker face skills, one designated person has to go first and say something provocative. Take turns as you get tipsy and laugh your butts off as you come up with naughtier things to say. Good laughing releases endorphins, the feel-good chemicals in your brain, which is an amazing aphrodisiac.
Sex Position Pact
Do you have a pen and paper handy? Good, because you're about to draft up a contract you'll both be jumping to sign. The Sex Position Pact is exactly what it sounds like – a pledge to each other to try as many saucy new sex positions in one month. Whether it's one new move a night or two weekly, vow to leave your sexual inhibitions at the bedroom door for a full 30 days.
Want an even bigger challenge? Don't cheat by scouring porn sites for position inspiration. Instead, use your sexiest asset, your noggin, to come up with the wild moves you want to try. Trust me, you'll soon realize your own imagination is crazier than anything you'll find online (and a lot more fun). If you hit a shagging stumble block, you can also read passages from my book, Ride 'Em Cowgirl! Sex Position Secrets for Better Bucking, to learn how to tweak the moves you already love. Together you'll experience deeper, longer, orgasmic sensations you didn't even realize were possible!
Reservation for Frisky Fun
You'll be shouting 'check please!' before the busboy even clears your plates after you try my sexy spin on the classic dinner date.
Start your evening like you would any other night out at your favorite eatery. Dress to impress, order some appetizers and wine, and settle in for some quality time together. As soon as your waiter takes the drink orders your 'dirty dinner' begins.
Write short, dirty stories on a napkin and read them to each other before the appetizers arrive. Whisper across the table what you want to do to each other when the waiter isn't looking. Glide your hands up and down each other's legs under the table as you continue to share naughtiest fantasies. Over your entrees, take turns to slip off to the bathroom separately to pleasure yourself.
If the two of you get too worked up to wait until you get home, sneak off to the bathroom together once the bill has been paid up. Discreetly shut the door behind you before you help yourself to a completely different kind of dessert. Bon appetite!
Shower of Power
Bath time is a whole lot more fun when you do it together. Whether it's taking a shower in the morning or lounging in the tub after a long day, having your partner soap you up and rinse you down can bring you to whole other levels of pleasure.
Take time to really connect as you lather up and gently caress every inch of each other's bodies. You can even gently wash each other's most precious jewels (if you know what I mean) to show your deep trusting connection and erotic side. These actions often awaken deep thoughts and feelings of being taken care of, which can easily lead to heating up more than the water when you do your human loofah impersonation. And remember that bath toys aren't just for kids. You can introduce something fun and waterproof to give your tub or shower time a little extra buzz. But even if you don't have intercourse, taking these few moments to be intimate can help you reacquaint each other with your bodies and get your juices flowing.
Don't forget to towel each other dry at the end, another sweet gesture that often bring back feelings of care and intimacy, before starting your day*
***
We told you to head to your local sex shop and do some sex toy cruising in the flesh–but with modern technology, you can have the same thrilling experience from the comfort of your couch! Explore the TickleKitty Boutique for your new favorite pleasure toys.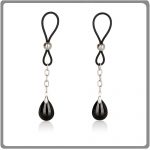 "Squeeze Please!" Nipple Play Jewelry
Think you can't make him love your breasts even more? Just slip on these tight, glamorous nipple jewels with just the right amount of delicious weight and let him love you luxuriously. Feel and look amazing… BUY NOW

5 Erotic Play Dates To Get Your Juices Flowing