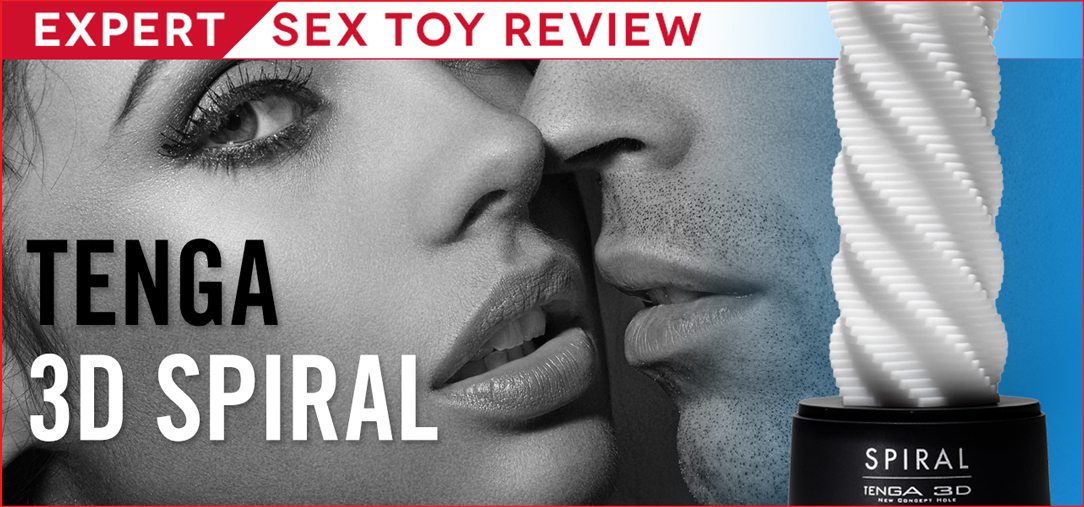 When it comes to sex toys, the male masturbation sleeve doesn't get the proper attention it deserves. In today's vast sex toy market, an adventurous guy (or gal!) can pick from a wide variety of super stretchy strokers for his love handle.
With apologies to Bruce Springsteen, if you gotta ride down baby into this tunnel of (self or partnered) love, the Tenga 3D Spiral is the way to go.
In recent months, my partner and I have added male masturbation sleeves to our sex toy repertoire. To be honest, as a woman, I've always found the faux vulva façade of masturbation sleeves kind of odd. Ditto for fake lip or anal entrances—at least in a partner sex scenario. If you want to bang away at a polymer orifice all by yourself, go for it. But the Tenga 3D Spiral offers a similar masturbatory experience, is a more neutral presentation and better-suited for both solo and partner play.
The award-winning design is hand-crafted in Japan, a country known for high quality engineering and materials. My partner noted that the product felt distinctly rubbery, but in a soft and stretchy way, and was more than pleasant to play with. The sleeve gripped him snugly, creating the perfect friction, while the spiral feature made his head tingle as I stroked him. Up and down, up and down (with a little twist).
One versatile detail about this toy is that you can jerk off your partner with the smooth surface or flip it inside out to use the spiral surface to create a totally different sensation. (I'm a woman who likes options and variety in the bedroom.) My partner appreciated how the closed end of the sleeve created a 'suction-y' feeling for him, similar to oral sex.
In the context of partner play, the Tenga 3D Pleasure Spiral makes it possible to give a good hand job without worrying about grip or pressure. I pay close attention to how my partner masturbates and have picked up a few key pointers on what excites him along the way. If you're a hand job novice, do me a favor and watch what your guy does the next time he whacks off. This intel will make your life easier. For more tips and tricks on how to get him off with manual stimulation, check out Dr. Sadie's illustrated techniques book, Tickle His Pickle: Your Hands-On Guide to Penis Pleasing.
Once we got started, it didn't take long for my guy to orgasm. Much less time than if I was trying to manually stimulate him without the sleeve. He was quick to comment on how good the warm feeling of come cascading down his dick felt within the sleeve. Our male masturbation sleeve experiment was a smashing success!
At the end of the day, this is a pretty simple toy. Take a hard cock, slip it into the tight, but textured sleeve and the two of you can't help but have positive, sexually arousing feelings. "It actually felt really good and gave me a great orgasm—but having you do it for me, well… that was the best part," he said.
The silicone toy is easy to clean—always a plus. Use with Slippery Kitty water-based lube for smooth gliding. With proper love and care, it should last through many frisky sexcapades.
Give yourself a helping hand. It's worth it. It's fun. And he'll love you for it.
***

Sleeves are swell, but they're not the only toys for him. Here are a few Tickle Kitty favorites, perfect for him or her. Or both of you together!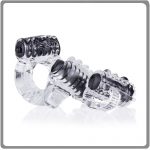 Be your lover's hero! A mini tongue vibe, a stretchy c-ring and handy fingertip vibe are everything you need to buzzz your lover to an unforgettable orgasm… BUY NOW
Dial in just the right amount of suction for your own delight—a little, a lot, or completely over the top! You'll go wild for these tiny toys' seductive suction… BUY NOW
Pretty, petite and powerful. Japanese-designed, with unique full head to stimulate the clitoris and entire vulva surface for all-over pleasure… BUY NOW
Ergonomic probe with 10 orgasmic settings, easy-grip handle and unique design to stimulate prostates and perineums simultaneously. The new generation in p-spot ecstasy… BUY NOW

Why You Should Use a Masturbation Sleeve On Him