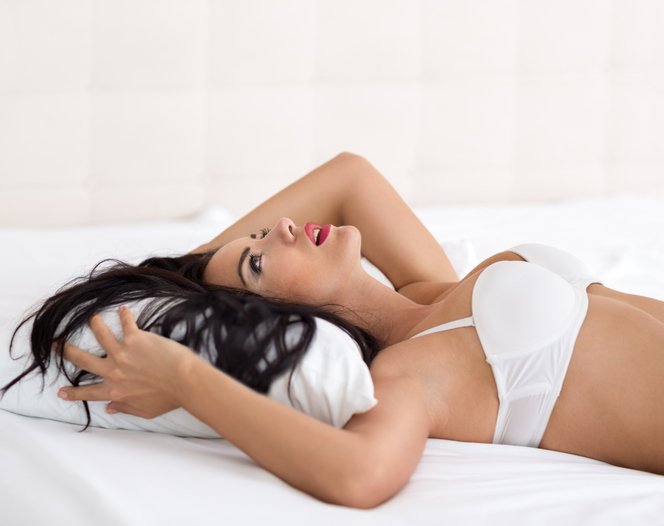 What if I could tweak your talents even higher? From everyday lover to Clitoris Connoisseur? How will she thank you—after the biggest, strongest heart- poundingest orgasms of her dear life?
As America's Pleasure Coach, I've uncovered surprising truths about female orgasms. Easily, the orgasmic upgrades that'll turn your hands into living sex toys are often simple tweaks to what you're already doing!
In fact, look at this one surprising truth:
Your clitoral moves are mostly sound. But these guided tweaks are your passport to ecstasy.
Really! With the few hints you'll read below (and maybe even try tonight!), I guarantee you will take your girlfriend or wife by storm, bring out her TRUE orgasmic potential – then feel her passion come roaring back to you with erotic pleasures you'll love, time and again.
But first, a quick word to every woman curious enough to be reading this! If you find yourself cheering and applauding the sensual touches I am now revealing to the guys in our lives we love so much (and want to love more), that blue Tweety bird at left will gladly carry your orgasmic tip-offs to all your adventurous friends (including one in particular!).
Okay guys, try this tweak next time you're in the heat of foreplay: Do Nothing.
That's right. When was the last time you got good advice, and that advice was to Do Nothing. Yet here's what I mean: As you're gently fingertipping her clitoris, and you feel her excitement on the rapid rise, instead of rubbing faster and faster, simply pull back your fingertip ever-so slightly and do Absolutely Nothing!
I guarantee you will drive her insane with lust. In fact, her clitoris may actually begin chasing your fingertip in search of the intense pleasure of your touch. So enjoy the chase – then resume giving her what's now become a matter of urgency!
But what if her clitoris is still a bit of a mystery to you?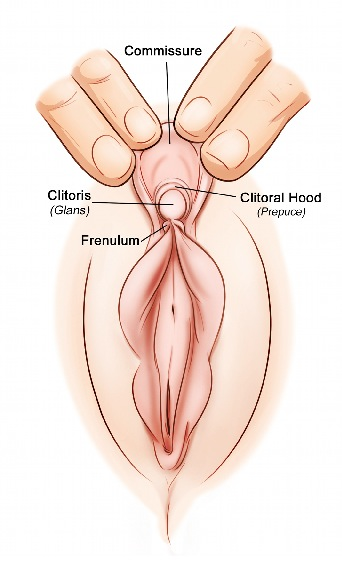 Try this:
Too bad they don't teach this in school. Bet you'd pay attention then!
Knowing the "how" of clitoral touch works best when you know the where. And while every clitoris is as different as every snowflake – some hiding and others easily seen – you'll always find the clitoris atop your lover's two inner vaginal lips, cradled just below where they gracefully arc together (see illustration).
So how does it feel to her when you caress her clitoris just right?
Pretty close to how the head of your penis feels when she touches you just right. (And that's a BIG clue to controlling the pace and pressure of how you touch her!) Now, the moment you try on your lover the technique I'm about to share with you—I guarantee you will magnify the sensuality of your touch so much, you will easily send her down that slippery slope to splashdown in Orgasmland.
Here you go:
The BIG secret to delight her with the biggest orgasms EVER comes in one 4-letter word.
That word is Lube – as in personal lubricant – which I guarantee will light up every one of the THOUSANDS of clitoral pleasure receptors packed into her tiny pleasure button!
Some may say that the natural lube provided by Mother Nature is all that's needed. True… for some women, some of the time. But vaginal dryness, caused by medications or dehydration or bad timing will cause your gentle fingertip to feel like SANDPAPER on her clitoris. (I speak for all womankind when I say, "OUCH!") Next time, try a little drizzle of a slippery water-based lube you can easily get at any pharmacy, or online, and you will QUICKLY glide her to sexual ecstasy.
How on earth do you think she'll reward you??
Whenever you learn a cool new move playing your favorite sport, you probably score more, right? Same goes for sex. I hope you'll try these moves I just shared with you, and I guarantee you'll run up the scoring!
To sum up: Passion is a two-way street. Being a giving, generous lover always comes back to you in unexpected, erotic ways.
How to Seduce a Clitoris 'til She Begs for More