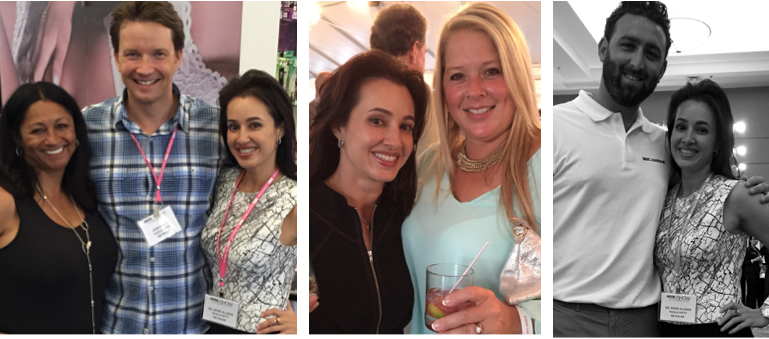 PICS: That's Jackie White of CalExotics, John Renko of Tickle Kitty, Tiffany Lysene of Little Genie Productions and Chad Braverman of Doc Johnson (and lil 'ole me sandwiched in there)
I've been up to some pretty exciting stuff this month! Though it's summer break for many out there, I have been hard at work finding the latest and greatest in pleasure products for toy-enthusiasts worldwide. Not a bad job, is it?
So, where does someone go to find the cream of the crop of vibrators, dildos, men's pleasurizers, lubes, foreplay games, and everything in between? The annual Adult Novelty Manufacturers Expo (ANME)! Here is where I find all the best products in the industry showcased under one roof. Whether buyers are looking for romantic body paint or sleek, app-controlled vibes, everything worth learning about is right at my fingertips.
I flew to Los Angeles for the show this year, taking off my sex educator hat and putting on my toy-curator badge. My work involved browsing and evaluating the infinite pleasure products the show had to offer—and believe me, this was no small feat! There's so many different types of toys today and important variables to consider. But I believe in thorough research, so I always work tirelessly to curate the Tickle Kitty Boutique with only the best. ANME was no exception! Bringing amazing toys to the site requires extensive knowledge. My goal is to take the guesswork out of your shopping experience–so all you've got to do is show up!
I was even able to meet with a few leading executives of some of the longest-standing companies in the industry—lucky me!
Dildos have changed dramatically over time, with some of the first appearing in human hands as far back as the caveman days. Though we've evolved past the baton-like dongs of our ancestors, reputable sex toy companies are always striving to create dildos that are more comfortable and pleasurable. Doc Johnson is among one of the most distinguished in the industry, and their thirty-year reputation of excellence speaks for itself.
"The newest line of Doc Johnson dongs, featuring the dual density material TRUSKYN™, is made of top quality silicone, and boasts a unique and pleasurable combination of a soft, spongy surface with a sturdy, firmer core," says Chad Braverman, Director of Operations. "At Doc Johnson we ensure high integrity of our materials, always using health-grade, body-safe silicon for comfort and safety."
The very best thing about the new Doc Johnson line is how amazing the toys feel in your hand—the material is so lifelike to the touch, and easy to warm with body heat. And if they feel that good in your hand, then imagine how great they may feel in the right spot!
Of course, toy research wouldn't be complete without looking into some of the many high-quality vibrators available today. Jackie White of California Exotics boasts an entirely new line—a sleek, beautiful lineup of toys aptly called Silhouette. A far cry from the boxy, uncomfortable vibrators of the Victorian Era (when they were actually used as medical tools to treat female hysteria), this line is attractive AND functional. Says Jackie, "Aside from the whole line being Silicone, waterproof and rechargeable, what women should love best about this product is the way it makes them feel! The powerful motors and multiple functions provide pure ecstasy, and their elegant, soft curves redefine today's vibrators into luxurious intimate massagers. Silhouette is sexy and feminine, and that's what women will love."
I wasn't just all about vibrators and dildos—I also delved into the playful world of intimacy-enhancing romance games. The best and brightest of the industry is Little Genie Productions, run by Tiffany Lysene. "These games work like a charm to promote fun and sexiness in any relationship," says Tiffany. "The latest addition to the company's Behind Closed Doors romance line is called "In the Mood for Love". This game is used as a way for couples to express their feelings, using 105 cards that offer easy-play ways to get creative.
"Let's say you're feeling adventurous, naughty, or joyful," says Lysene. "Find the matching card and give it to your partner. Each activity will be related to how you're feeling– this gives you and your partner ideas on how to get closer to one another."
So you see, my work is never done—lucky for you! Your experience with these toys should be out of this world, so we take matters into our own hands. The Tickle Kitty Toy-Testing Team is hard at work trying out each toy personally to make sure all of you get the very best bang for your buck. We meticulously test each product to make sure the orgasmic intensity is sufficient, the app remotes work without a hitch, the designs are ergonomically correct for her body, all materials feel good on the skin, and the list goes on… Every toy must pass a standard of excellence so that the only thing you need to worry about is when you'll make time to get in all the orgasms coming your way!
My new lineup is coming together nicely but still under wraps, so be sure to come back and check out our boutique in a few weeks for my final top picks from Los Angeles! In the meantime, I invite you to browse our Tickle Kitty boutique and explore our great selection of toys, and read our Kitty Blog for sex tips, relationship advice and cool articles.
PS: If something catches your eye in my boutique, feel free to take 10% off – use code: MoreOrgasms at checkout.
Dr. Sadie Works Hard for Your Pleasure