Oh, the nipples—those two little areas on everyone's body that can cause quite a big sensation. Not only do they have the capacity to cause immense pleasure, but it seems like someone's are always causing controversy. Case in point: Over ten years have gone by and people are still talking about Janet Jackson's famous 'Nip Slip' wardrobe malfunction at the 2004 Super Bowl.
So why are nipples considered so naughty? Why does the media go manic every time Miley Cyrus pops a pasty or Beyonce accidentally bares a boob? It might have something to do with the fact that when prodded properly our nipples are one of our biggest pleasure receptors.
Considered one of our body's erogenous zones, the nipples send the same message to the brain as other genitals. (No wonder humans have been obsessed with boobs since Adam first realized Eve was naked!) These erotic nerve ending receptors are so sensitive and powerful, they can sometimes cause a woman to orgasm without having been touched anywhere else! Now that's nipple navigation.
It's an old wives' tail that only women can get turned on by nipple play. Many men love having their tits teased, too. Guys have the same sensitive nerve endings on the tip of their nips as ladies so sucking, biting, or gently caressing your man's nipples can be a real turn-on. Don't forget to ravish the rest of the breast!
If you're just introducing nipple play into your boudoir take it slow. Start by lightly blowing your hot breath on your partner's nipples then gently squeeze them between your fingertips. As you get more comfortable, start to lick around the areola then flick your tongue over the erect nipple and suck on it. Then blow on it again and your lover will feel new cooler sensations from your sexy breath against their wet nipples. You can even give it a little nibble if you want. You'll both be super worked up at this point, but try to give this area the attention it deserves and don't rush it. You'll both reap the rewards in the end.
What if I'm Prego?
When you're pregnant your entire body is more sensitive all around—especially your nipples. It also releases major amounts of oxytocin—a bonding hormone which is linked to sexual arousal and orgasms. Women's oxytocin levels fluctuate when they're on their period or pregnant and these high levels can make your nipples even more sensitive. Make sure to be extra gentle when stimulating the nipples during pregnancy–sensations that normally feel good could be even more heighten then you're ready to handle.
Toys for Ta Tas!
There are many pleasure toys designed especially to tease your Ta Tas. Here's a few popular models that are worth checking out:
Nipple Clamps. While clamps can be heavenly for the nipple-play connoisseur, they can cause different reactions to different people, so tread lightly if it's your first time introducing nipple toys into the bedroom. Adjustment clamps, vibrating clamps, heat clamps, chains, and jewelry can all add to your nipple play. Just getting into nipple play? Start with these cute, incognito Purple Nipplettes.
Suction Play. Hand-activated suction toys can create amazing sensations on your breasts and nipples (his too!). The T-Cups Nipple Suction Duo might be the perfect pleasurizers to give you that special suction sensation you crave. Rim the suction cups with some Slippery Kitty lube (or saliva), press gently against the breasts and twist it ever so slooowly. Feel (and see!) your nipples engorge with erotic excitement in the see-through chamber.
Vibrating Nipple Clamps. For the full tidal wave of titillating, you're going to want to step it up with vibrating nipple tips. This style lets you adjust the clamp pressure and vibration speed to your liking. You'll love the buzz and erotic tug sensations these one-ounce vibrating weights will give you!
Curious to try a new sex toy? Explore our Tickle Kitty Boutique.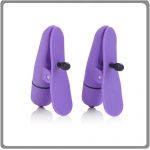 Irresistible vibration and tight stimulation is now at the tips of your breasts. For solo playtime time or indulging a lover any time … BUY NOW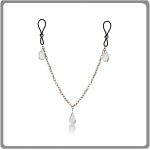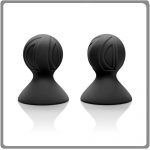 Place these luxuriously smooth arousers around each nipple and squeeze to create the tingling suction sensation that we all love and need, with or without a partner … BUY NOW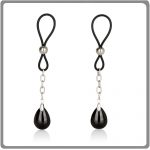 Naughty Nipple Stimulation, Anyone?