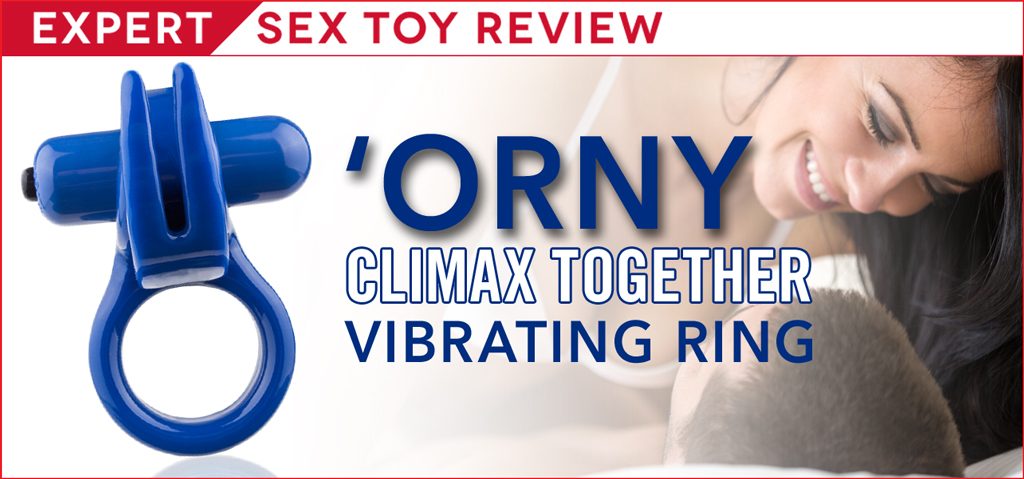 Are you feeling 'Orny?
That was the thought that first came to mind when I laid eyes on the 'Orny vibrating cock ring. It seemed intimidating at first with its tall squishy horns. But I found out soon enough that they were perfectly positioned to cradle and tickle my clitoris. I loved the body-safe, super-sexy cerulean material, and (the best part!) its serious hands-down, cocks-up intense vibration.
The 'Orny is incredibly easy to use. The only button you need to push is the on/off one. The hardest part of the toy is figuring out your favorite way to give and receive sexy thrusts. You can try it horns-up, or horns-down… It really depends on how sensitive his balls are, and how you like to feel the buzz. The vibration is strong for this type of toy, yes, but not overbearing on the ring itself.
It feels heavier than some other vibrating rings, with a larger bullet. But that didn't seem to bother my husband much at all. In fact, he was turned on by the idea of having some heavy tackle on his tool. And from his reports, it's not uncomfortable to wear—especially after I incorporated slipping the 'Orny onto him during a spectacular hand job. Here's a tip: if he has hair down there, use a dollop of lube to glide the C-ring down his shaft.
You too can add some oomph to your signature squeeze, with a little twist near the tippy top of his penis. As I moved my hand up his frenulum and over the head, I gently squeezed his head like I was juicing a lemon—by moving my wrist clockwise. And since I was already using lube within seconds we were ready and set. It's not hard (pun intended) to put a C-ring on an erect cock.

We tried it with the vibrator on top, and then with the vibrator below his balls. At first the horns didn't always hit my clitoris, but then we found that perfect space between our pleasure spots and the bullet. In missionary, we wiggled our hips instead of thrusting. It was even easier to keep the orgasms coming when I was on top. The 'Orny kept my husband's dick stiff and delightfully buzzy, through orgasm after orgasm. We made love for a while, but the bullet lasted longer than we did. We were even able to come together—something I'd never thought possible without this new toy.
A few days later, I tried the 'Orny with one of my dildos. I liked that I could feel the vibration through the dildo, and that I got to control the motion to press the horns up against my clit for an extended period of time. It's easier with a silicone dong than when two bodies are involved!
The toy comes with an extra set of AG-13 batteries. Plus, it's waterproof — hot tub sexy times anyone? — and easy to clean. I can't recommend it enough, and it has certainly become my favorite special occasion toy (alone or with my husband), whenever I want my ride extra rumbly and wild.
***

This C-Ring Enabled Me to Climax with My Husband