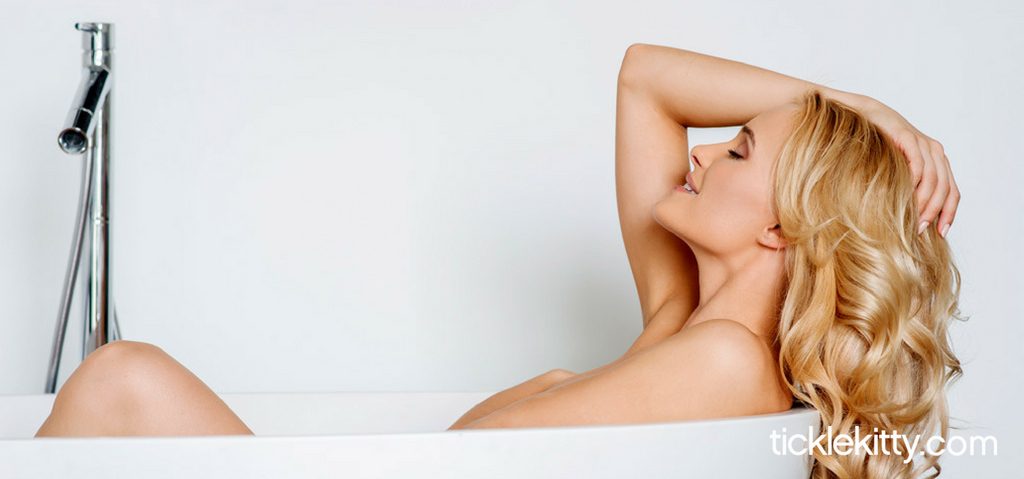 Before there were sex toys, there were nothing but everyday items found around the house and Old MacDonald's produce stand—plus lots of people with vivid imaginations. Today, these items still work their magic. The best thing about sex play with ordinary household objects is that you can really go creatively wild. Just make sure to keep in mind a few safety rules: make sure your object is clean before use, you're clean, and you give everything involved a good scrub down afterwards.
Now are you ready to get started?
1. Niagara Falls
Dim the lights. Draw the bath. Light the candles. Pour the wine. Add bubbles. It's your time away from the pressures of daily life. Set the water temperature and flow just the way you like it. Then lay beneath it and let it stream deliciously down on your clitoris. If you've got a suction cup dildo, attach it to the porcelain just under the faucet, and let it penetrate you as the water teases you. Your buoyancy in the water will help you glide it in and out. Use your hands and fingers to caress your beasts, clitoris and other body parts—or get a waterproof vibrating sponge. The vibes are inconspicuous, so the kids will never know!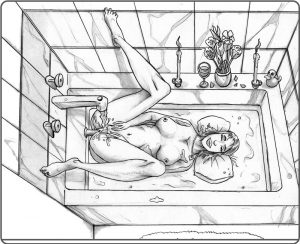 2. Washday Fun
Do you see laundry day as chore day? If it came with a whopping orgasm, would that change your outlook? Make women have discovered the simplicity of spin-cycle pleasure by sitting on a corner of their washing machine – or dryer – while the machines do the rocking and rolling for you. Next to the wand in your bedside drawer, this may the best source of vibration around your house. Recommended for home use only—hidden cameras in laundromats could make you a star!
3. The Wonders of Indoor Plumbing
If you've got a hand-held shower head, adjust the water temperature and pressure to your liking, and direct the flow onto your clitoral area. It'll be easier if you place one foot up on the side of the rub or onto a shower seat, but be sure to keep your balance! Start out with lower pressure and increase it as you become aroused. If your shower head has a massage feature, adjust the pulsations to your liking, too. Please be aware that highly pressurized streams of water into your vagina can cause irritation, so position yourself carefully. If you don't feel like using the shower head or bath tap, there's lots of other fun you can have to make your steamy me-time sexier! Who knows, you may love it so much, next time you'll want to bring a friend.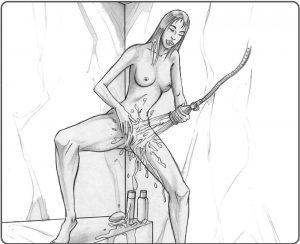 4. Furniture Orgy
Here's something you won't see in any furniture catalog: armchair sex! Pick a soft chair or sofa with padded arms. Place a towel over one of the arms, then sit and carefully position yourself on the arm. Arch your back, spread your legs and let your vulva directly press against the arm. Roll your hips in small circles, or rub agains the arm in quick back and forth motions. Wiggle around 'til you find that perfect position. When your clitoris is rockin' and you feel the blood flowin', that's Armchair Sex!
5. Tied up in Tights
These next two are for couples who want to get their kink on. 50 Shades of Grey may have familiarized you with using a neck tie to bind your lover in a pinch, but ladies can get in on the action too. A pair of tights or stockings can make tight, silky restraints. Grab a sexy (and cheap!) pair to tie wrists together or to bedposts. If you're trying to keep the neighbors from waking up, you can use stockings as a handy gag as well. Make sure it's not her favorite pair of stockings or tights, as enthusiastic loving might take its toll.
6. Serve Up A Spanking
Imagine: you're in the kitchen with your honey. Your lover drops a fork. They bend over to pick it up, displaying their tantalizing tush. You just need to give it a good smack as a token of your appreciation, but your favorite crop is in the bedroom. Don't worry, there are lots of objects all around you that make perfect impromptu paddles – let us especially recommend a plastic spatula. It's light, flat and easy to grip. Make sure there's a little oomph in your swing. Feels great over jeans, or on bare butts too!
***

MacGyver-ing up a sex toy from around the house is fun, but who are we kidding? You can't beat the real things. Take a look at some of Tickle Kitty's favorite toys when you're done seducing your shower head or riding the arm of your chair.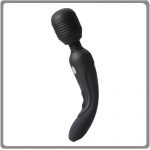 Mystic Wand Rechargeable
A whole washing machine's worth of vibration in one light, ergonomic power wand. 3 intensities, 1 vibrating head, unlimited orgasmic potential… BUY NOW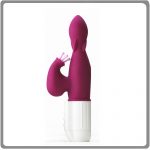 LUVIT A Delicious Plaything
For an inviting twist and twirl inside, try this unique rabbit. Gyrating shaft, 4 milt-to-wild vibrations and clitoral ticklers for irresistible pinpoint stimulation… BUY NOW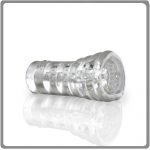 The Head Honcho
If he loves oral action, this sleeve may be the next best thing. Extra thick, easy to grasp and simulates the feel of your own lovely and passionate lips… BUY NOW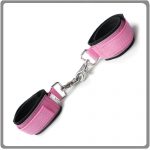 Pinkies – Soft Neoprene Cuffs
Total surrender at an economical price. Plush, comfy wrist cuffs to bind arms behind your back, over your head, or right to the bedframe… BUY NOW

6 Household Items You Can Get Frisky With