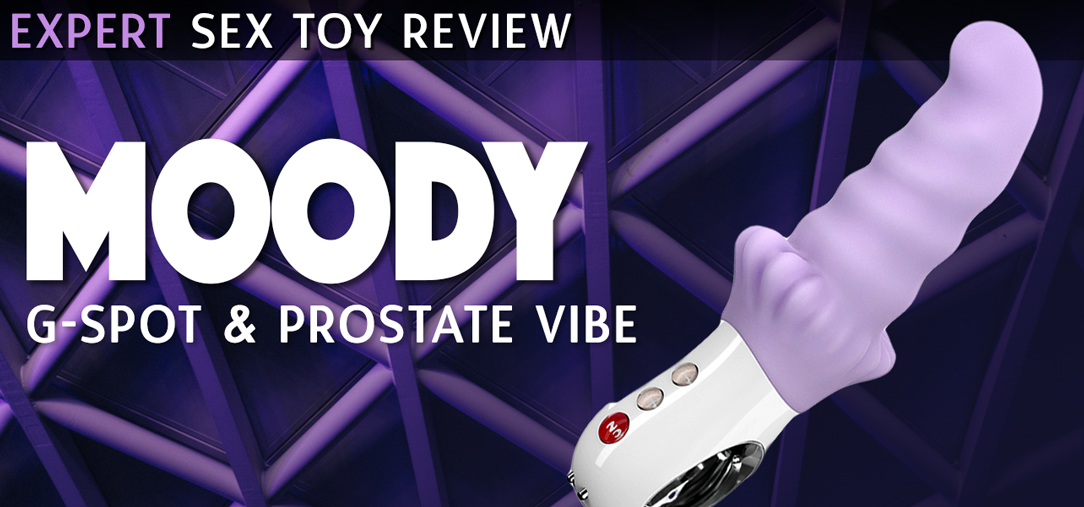 In a world of hot pink dick-shaped vibrators, the Moody by Fun Factory has my heart. From handle to tip, this versatile vibrator is consciously designed. The high-quality silicone is something special, with its unique "grabby" feel. It clings to water-based lube all along the length of its rippled ice-cream-swirl body. A hard plastic loop handle with three light-up buttons ensures ease of use, no matter how lubed up my hands get.
And bonus: the controls include a travel lock feature which allows worry-free flying. No suitcases will be buzzing with this treat! Best of all, perhaps, is the deep, rumbling motor—a feature this company is known for far and wide. Despite being so powerful, the Moody is not especially loud, since a little background music will drown out its soft hum with ease. Even the packaging is a thing of beauty: a subdued, shimmering champagne gold box opens to reveal a protective cut-out and instruction manual, the Moody nestled safely inside, and bright red near-impossible-to-lose USB charging cord in a compartment below. The box can be recycled or kept as a storage vessel for the vibe, and it even makes for wrapping-free, gorgeous gift-giving. That said, while the unboxing is fun on its own, it's nothing compared to using this high end delight.
I love the attention to detail that leaves me wanting for nothing. My partner loves the power, the undulating swirls, the gentle curve of the prostate-ready tip, and we both appreciate that this toy is 100% waterproof. We keep the Moody stashed in a bathroom drawer for when we need an extra steamy shower—alone or with each other.


For clitoral and vaginal stimulation, the curved tip can be used to trace along the labia, clit, and to tease the vaginal opening. Since the Moody is such a flexible toy, grinding into produces different sensations as it pushes back against your movement—it is a very yielding toy. The relatively short shaft ensures gentle, pleasurable G-spot pressure, not cervical-poking pain. The textured, flared base stimulates the vaginal opening during penetration and the looped handle provides excellent grip.
For prostate and anal pleasure, the Moody is an ideal candidate. Its stimulating textured base is perfect—and perfectly safe—for exploring the ultra-sensitive back door; there's no way the Moody will get lost or go too deep. The tapered tip can be slid in (toward the belly button, like the G-spot) with each swirl providing a wave of sensation. Whether you prefer a come-hither stroking motion, a well-lubed thrusting, or to simply hold it still while enjoying one of the Moody's six vibration levels (ranging from "oh" to "OH MY GOD") and six rhythmic patterns, this toy is designed to please. To keep it safe when swapping between bodies and orifices, we use a condom, unrolled all the way around the flared base and wash it with soap and warm water between uses. Not only does it make clean-up a breeze, it also keep bacteria off of the toy.
The Moody is a great toy for someone who wants a little bit of everything. Luxury, impeccable quality, G- and P-spot magic, O-worthy power, and versatility.
What it's not is super-firm, ultra-large, and jackhammer-powerful. If you're a size queen, it may not measure up. Power queens may long for their Magic Wands when the Moody doesn't vibrate them to high heaven. For those who require a rock-hard G-spot toy, the flexible Moody likely won't meet their standards.
This toy is ideal for someone starting or expanding their collection, and it makes an excellent gift since it's so versatile and well-suited for couples and singles alike. For the traveler who wants it all, the shy beginner, the avid orgasm adventurer, the collector—you've just found the cutest new addition to your "favorites" drawer.
What are you in the mood for?
***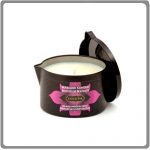 Kama Sutra Island Passion Massage Oil Candle
Light up your lover and your senses with this decadent massage candle. Exotic scents mingle in its rich, skin-nourishing formula—perfect for an erotic rub down before or after the main event… BUY NOW
Ergonomic probe with 10 orgasmic settings, easy-grip handle and unique design to stimulate prostates and perineums simultaneously… BUY NOW
Get down glamorously with Callie. Available in 4 or 6 inch lengths, she's a satiny smooth, whisper-quiet addition to your collection when you're in the mood for some decadent me-time… BUY NOW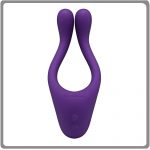 TRYST Couples Vibrating Massager
A cock-ring, a G-spot massager, a clitoral vibe and so much more. A unique toy with something for all your erogenous zones… BUY NOW


A Toy for Every Body and Every Mood