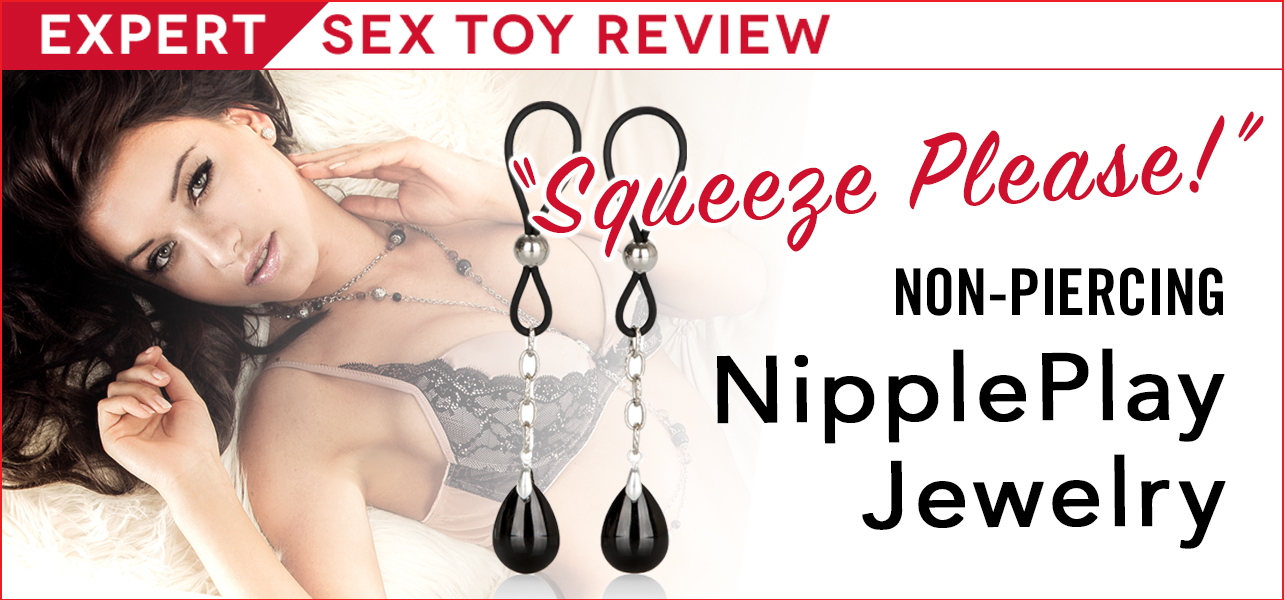 Who doesn't want dazzling breasts? I know I do especially since I know that my boobs always look a lot perkier when my nipples are adorably erect. That's why I love the "Squeeze Please!" Nipple Play Jewelry. And not only for what they do to my nipples; they're gorgeously eye-gasmic. Once I saw these beauties, I had to know how these non-piercing silicone loops looked and felt.
With nickel-free silver and onyx black crystal jewels, the cinch design allows you to slowly tease your way to taut. Once you've got there, the crystal jewels banging against your body create a slight sensation that works well when you get down to good old fucking. And they're the perfect weight. Not very heavy, but enough that you can't help but notice that you've got jewelry dangling from your nips. This bling offers a whole lot of sensation.
Here's how my husband and I used them:
On the night before Christmas, when "not a creature was stirring" (you know the tale), my husband got down on one knee in front of the tree and told me that he wanted to present me with a special Christmas Eve box. I expected a ring or a necklace, but when I saw the glistening onyx clamps, I let out a soft moan.
"They're beautiful," I told him. He suggested we try them on. He held my hand as we walked quietly to the bedroom. He slipped off my shirt, and began lightly flicking my nipples with his tongue. He went from flick to suck to blow, and back to suck. He always knows how to hit my personal arousal buttons—from my nipples down to my belly button and then further down to my pussy. As he began sucking harder, making out with my nipples like he does with my lips, I could feel something stirring between my thighs. I began to moan and he slowly lowered two fingers and began circling my clit. After a few minutes, when I was revving up to go, he removed his finger and headed back up to my nipple. Without skipping a beat, he moved his hands to one breast and his mouth to the other.
After we got the "Squeeze Please!" Nipple Play Jewelry to stay on, I loved when he fucked me and tugged on the onyx pendants. He laid me down, my back on our bed, and slowly began to thrust. While he moved in and out he made sure to play with my nipples and the jewelry too. I don't know if one fell off before we were done (it might have) but it didn't matter. These were gentler than other nipple clamps, but still provided a whole lot of feels. They were a perfect addition to our lovemaking.
I've talked to a few of my girlfriends about the pros and cons of pierced nipples. I admit, I've always been curious. But with these slip-on shinies, I can enjoy all of the benefits (keeping my nipples erect, heightened sensation, the glam factor) with none of the cons (mainly the major ouch!)
I already know I'll be using these a lot in the future. Next time around, it'll be in a hot bondage fantasy. One in which I'm playing my husband's glamorous mistress, a woman who likes to erotically torture him…
How would you try these?
***
Was your favorite part about the "Squeeze Please" Nipple Play Jewelry the amazing sensation, or the gorgeous glittery look? Tickle Kitty has what you need whether you're after more sensational squeeze, or a new jaw-dropping accessory.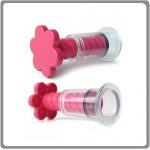 Dial in just the right amount of suction for your own delight—a little, a lot, or completely over the top! You'll go wild for these tiny toys' seductive suction… BUY NOW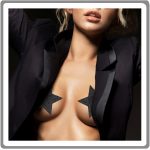 Two fab reusable sparkly stars—the perfect accessory with (and under) any outfit. Surprise your lover, and add some shine to your star qualities… BUY NOW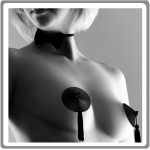 Timeless, adhesive tassels for good ol' fashioned fun with your lover. Spin them first one way, then the other, then spin your lover waaay out of control… BUY NOW

I Loved How the Slip-On Crystal Jewels Dangled from my Nipples…