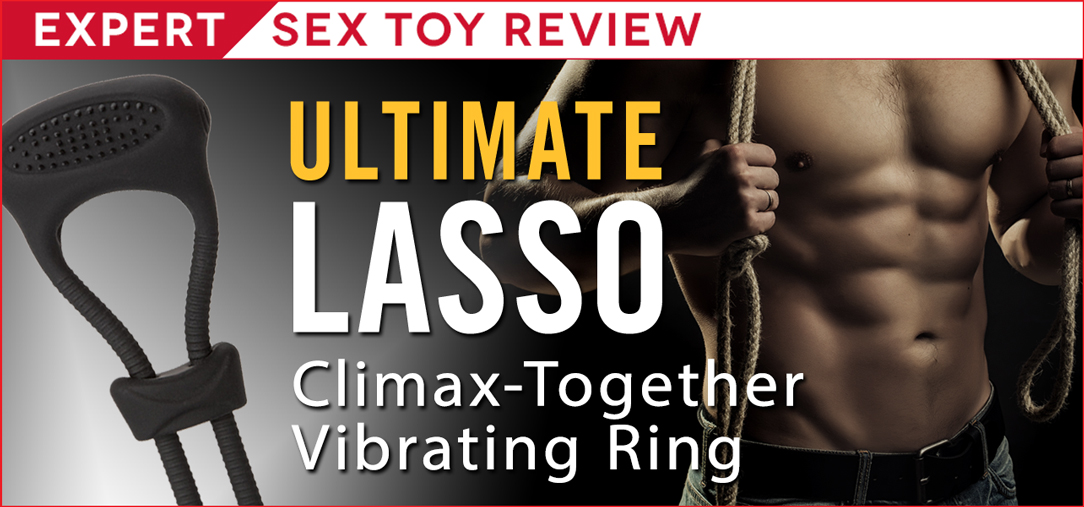 We all love a guy that lasts. And at the moment, a few of my male play partners keep their stamina up with a little help from a cock ring. In fact, we've turned their inability to last into a sexy game, so they usually arrive at my place with the cock ring on and ready to go. But this time I provided the ring – a brand new Ultimate Lasso.
If you're unfamiliar with cock rings, they're designed to be placed around a penis, usually at the base. Its primary purpose is to slow the flow of blood from the erect penis, making it easier to stay hard for an extended period of time. Basically, this sex toy is all about creating a major league boner.
Until recently, I've stuck to straightforward cock rings made of rigid materials. Think metal, plastic or wood. They've served me well (and so have the wearers,) but I've recently discovered the next level of C-rings. The Ultimate Lasso is a game-changer on several levels. Namely its stretchy, vibrating element. This is paired with a unique, adjustable cinch that would be perfect for members on either far side of the size spectrum.
My go-to stunt dick (let's call him Jeremy) usually opts for an industrial steel ring, but was intrigued when I asked him to road-test the Ultimate Lasso. Jeremy has a thick, beautiful tool, so it's a big plus that the Lasso adjusts to a wide variety of sizes.
Once I got him lubed up and hard, I shimmied the Lasso down to the base of his shaft. The soft, skin-like material is far more appealing than your typical cold, hard steel. Also, the small stimulator packed a lot more power than I expected (in a good way). Jeremy's long-lasting erection plus hands-free clitoral stimulation produced several waves of orgasms. I've road tested several of these clitoral stimulating C-rings, and the Ultimate Lasso is up there at the top. The vibrating ticklers are just pronounced enough for you to feel the delicious texture without being bulgy and annoying like some.
As for how Jeremy was doing—I have to admit, seeing his hard cock in the Lasso was a total turn-on. I got off on making him wait to ejaculate. When he finally did release, it was intense – unlike any orgasm we'd shared before. We plan to play around with the positioning of the cock ring in future romps to see how the vibration feels in other sexy places. One quick warning: be mindful of his pubes when putting the Lasso on and off – we had a bit of unintentional tugging.
The Lasso may look like a small toy, but for below the belt pleasure and lasting power, it packs big (O!) benefits for both men and women. For beginners, its elasticity makes it an easier-to-use option than rigid rings.
The Lasso is waterproof and requires three watch batteries.
***

The Lasso is perfect for your time together, but if you need something helpful and buzzy for your solo time, Tickle Kitty's got what you need!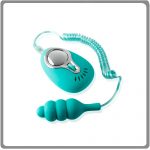 Expertly-crafted triple-curved bullet contoured for right where you crave pleasure. Adjustable speed dial, to customize to your personal pleasure setting. A perfect way to start the day! BUY NOW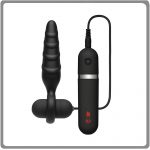 Velvety-soft, seductively tapered and sensationally ribbed. Ten powerful vibration settings to tease and please buttplay lovers both new and experienced… BUY NOW
For an inviting twist and twirl inside, try this unique rabbit. Gyrating shaft, 4 milt-to-wild vibrations and clitoral ticklers for irresistible pinpoint stimulation… BUY NOW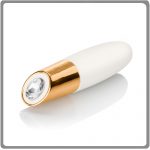 Callie Vibrating Mini-Wand
Get down glamorously with Callie. Available in 4 or 6 inch lengths, she's a satiny smooth, whisper-quiet addition to your collection when you're in the mood for some decadent me-time… BUY NOW