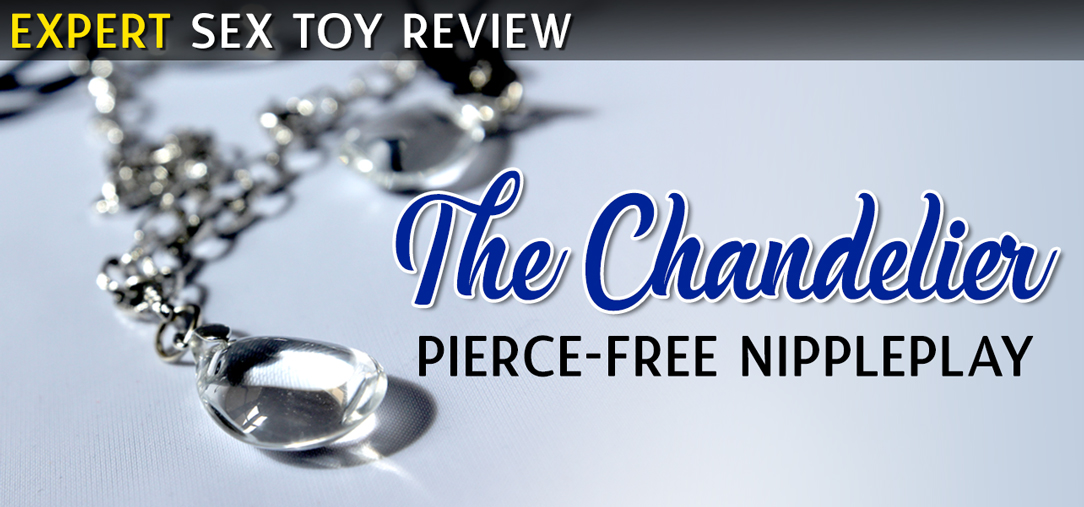 I've always thought nipple piercings were hot. On men or on women, there's just something sexy about nipple jewelry. Even though I went through a teenage piercing phase myself, I just never had the courage to go for it. Despite knowing that nipple play works for me (in moderation, as with all good things) and that nipple piercings can add a whole new level of fun to the mix, I've never been able to go under the needle and commit to the look. So, of course, when this gorgeous treat showed up in my mailbox, I was absolutely delighted.
When I first pulled the Chandelier with its shimmering 17-inch long chain out of its package, I was concerned that it might be too long and droopy once on my body. But my fears quickly subsided as I held the jewelry to my body and saw that it was the perfect length to dangle the center tear-shaped jewel right between my breasts. I'm a Virgo, though, and worrying is sort of my wheelhouse, so my next concern was that the silicone nipple loops (2.5-inch circumference), though fully adjustable, would somehow not fit on my nipples; it wasn't that I was afraid my nipples wouldn't fit in, it was more a fear that the loops would fall off. It turns out that with fully erect nips, these loops should fit on pretty much every size and shape of nipple and –– when tightened down–– stay on, even through some gentle tugs. This toy is seriously for every body.
After my own extensive testing (solo and with a partner) I discovered the perfect way to use these. A light yank on the chain, whether by the teardrop-shaped jewels or the cool silver metal, provides just enough sensation so that wearing this sex-toy-lingerie-hybrid goes the extra thrilling mile. I looked and felt good wearing it. And what's better than that?
The Chandelier's chain itself has a light texture embedded in the metal and the jewels are hefty enough to really shimmer against one's body. Though the delicate chain and large jewels stand out, the piece as a whole is very light and can easily stay in place for the entirety of a steamy session between the sheets, but if you get too excited and pull on the chain too hard it's likely the nipple loops could come off. The tighter the loop, the more firmly you can tug on this piece, but beware that it is a gorgeous adornment, not a hardcore piece of BDSM equipment; playing and touching this piece is encouraged, enjoying is the name of the game.
A perfect top to wear with a fabulous pair of knickers, an ideal intro to the wonderful world of nipple stimulation, a great gift for the sex enthusiast who has–– or wants–– it all, the Chandelier is a one-size-fits-all kind of accessory that can take any night from standard to seriously sexy.
***
Ascend to the throne of pleasure with this sleek, handheld air-suction toy. Incredibly intense sensation will skyrocket you to out-of-this-world O's… BUY NOW
Wearable remote-controlled vibrating lace panty. Audio-sensitive—vibe to music in the club, or to your lover's voice. Tease her from up to 20 feet away… BUY NOW
Like your lover's tongue at turbo speed! The Red Hot Spark delivers intense, fluttering action with its flexible tip and deep, rumbly pleasures with its powerful bullet body… BUY NOW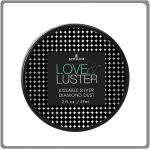 Love & Luster Kissable Diamond Dust
Bring out your inner shine and make your bare skin sparkle with this gorgeous, yummy kissable, lickable shine. Glam up your cheeks, breasts or every inch of your body… BUY NOW

Better Than Lingerie—My Favorite New Nipple Toy