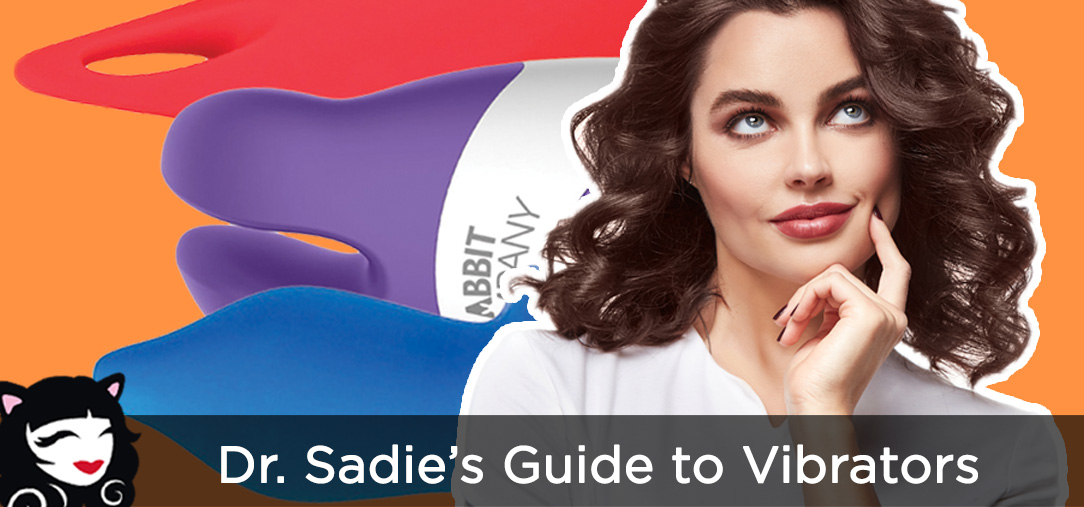 Vibrators are a magical, sometimes mysterious, source of pleasure. They often inspire questions—is that wand for internal or external use? How do you hold a contoured vibe? And what do bunny ears have to do with the clitoris? Here I'll dish every secret of all things that buzz and rumble.
For starters, what's a vibrator for? You can use a vibrator to lightly massage your muscles and body parts, or to directly stimulate your erogenous zones. Many women achieve intense orgasms much more quickly with vibrators than with manual methods. Vibrators also help create a more powerful build-up to orgasm, allowing you to finish with another preferred technique.
Now let's get started figuring out all those crazy shapes and sizes…
Ol' Reliables
Cylindrical vibrators are among the most commonly used vibrators. Some are smooth, others look like an erect penis, but either way, they provide a steady stream of external and internal stimulation. They usually range in size from four to eight inches long, and approximately one and a quarter inches in diameter. You'll usually find the variable speed control at the base.
Realistic
Similar to the lifelike dildos in the previous chapter, these vibrators have many of the anatomical features of an actual penis: veins, realistic skin texture, testicles—the Works! They add a nice twist for those who love their penetration with vibration and the touch of realism.
Mini-Massagers
About the size of a lipstick case—but don't let the size and basic features fool you. These discreet little vibrators are popular because they pack some mighty orgasms for women on the run. You can also get a selection of clitoral attachments for added fun. And for shower play, mini-massagers come in waterproof models. The Pocket Rocket is an all-time classic.
Dual-Action
For maximum stimulation, many women swear by their dual-action vibrator.Why? Just imagine pleasuring yourself with a shaft that vibrates AND rotates—as well as presses a small vibrating stimulator on your clitoris.These could be the most intense orgasms you've ever had. Other models have pearl-like plastic balls that circulate inside the shaft to stimulate your nerve endings at the entrance. Newer models have metal balls on a corkscrew track that provide a feeling of ongoing penetration— while you control the motion, speed and frequency. Just choose your favorite color, material, shape, model, size—and animal!
When selecting a dual-action vibe, check the length of the shaft—some can be too long, preventing you from properly using the clitoral stimulator at the base.
Clitoral Pleasurizers
Although almost any vibrator will feel pretty good directly on your clitoris, there are plenty of models designed specifically for this little pleasure treasure. You can choose among basic one-point pleasure stimulators (like mini-massagers or power wands), or vibrators with exotic split-action tips that stimulate the sides of your clitoris!
G-spot Seekers
If you're a G-spot lover, then you can probably spot a G-spot toy a mile away. They come semi-realistic or smooth, with that special bend in the shaft that connects with your magic spot. If you feel you've never really found your G-spot, or can't get enough stimulation there with your fingers, these toys are for you. And guys: they're ideal for an explosive effect on your prostate when inserted anally.
Finger Fitters
Do you like vibrators but miss the fingerplay? Now you can have both with these tiny vibrators that fit over your fingertips or slip between them. Wear just one, or as many as ten! And if you like shower or hot tub play, there are even waterproof joytoys for hot underwater action.
Sneak-A-Thrill Undies
Sitting at your desk, on the train, in the park—or in the midst of 60,000 screaming sports fans—now you can have mind-blowing orgasms right then and there. (And if you can somehow manage to stay quiet, only you will know.) These specially designed panties have a small pocket sewn in front to hold your favorite love egg vibrator.And they're available in lots of exotic colors and animal prints to match your mood, as well as in a Brazilian cut or thong to match your outfit. Secretly adjust the vibration power, and buzz your way to waves of intimate pleasure wherever you want!
Remote-Control Thrills
Guys: imagine being able to get your woman off at the touch of a button. If you're both intrigued by the element of surprise, have your woman wear a remote-control vibrator.Then, like a TV clicker, you can control the action from a handheld remote or even your phone. Now you control the vibrations that set-off her explosive orgasms. Models are available in panty, bullet and hands-free styles.
***

There's a vibe for everyone, whether you're looking for a sexy wearable toy, a discreet handheld pleasurizer or something fun for him!
Wearable remote-controlled vibrating lace panty. Audio-sensitive—vibe to music in the club, or to your lover's voice. Tease her from up to 20 feet away… BUY NOW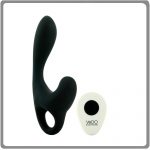 Buzzing buddies aren't just for her! This new-generation P-spot vibe has 10 orgasmic settings, easy-grip handle and unique design to stimulate prostates and perineums simultaneously… BUY NOW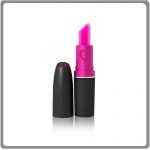 For a sweet, discreet "O" on-the-go, keep this stylish beauty in your purse! The ultrasoft silicone flex tip will caress your sweet spots, whenever – and where ever you like… BUY NOW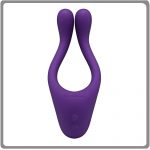 TRYST Couples Vibrating Massager
A cock-ring, a G-spot massager, a clitoral vibe and so much more. A unique toy with something for all your erogenous zones… BUY NOW

Dr. Sadie's Guide to Vibrators