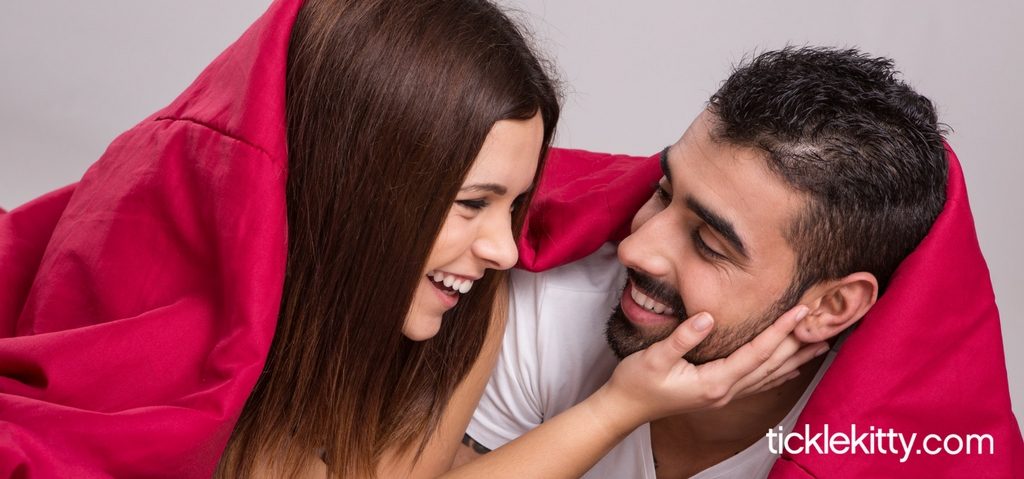 Pissed off again because you caught him sneaking his own five-fingered orgasms? It's time to get over all those false and neurotic reasons you swear are justifiable for wagging your finger at your partner's self-pleasure. Some women can't stand the thought of a significant other going solo in the bedroom, and others even claim it's akin to cheating, especially if porn is involved. None of these outdated, controlling excuses are healthy for your relationship or his well-being. If you want him thriving and happy, keep masturbation on the pleasure menu.
It might not be in the Constitution (yet!), but masturbation is essentially a human right. Shaming your guy about masturbating is equivalent to him prohibiting you from touching your own breasts or vulva. Masturbation is a mentally and physiologically healthy activity, and attempting to cut off someone's access to self-pleasure is more than wrong; it's sadistic. Imagine how you'd feel if you weren't allowed to sexually fantasize or orgasm at your horniest moments. Sounds like torture, doesn't it?
If you're feeling jealous of his private activities, it probably stems from one of the biggest misconceptions about male masturbation: the more he orgasms alone, the less he'll desire sex with you. In fact, his private pleasure can actually increase his sex drive. Instead of getting green-eyed over your dude's solo sessions, get creative. Masturbation doesn't always have to be a single-handed activity. Bringing self-pleasure into your couples' time can open up new paths to intimate sharing and connection.
Try Mutual Masturbation
Sometimes the lengthy foreplay and teasing involved in sex just aren't in the cards. His schedule might be too busy, or frankly, he might just be in the mood for a wham-bam-thank-you-hand. This doesn't mean you can't join in on his fun! Sit or lay next to him and start to make magic down below with your own hands. Lean into him and kiss his neck and shoulders, or enjoy a full-frontal view as he creates a sexy, live-action scene just for you. Throw in some dirty talk about your nastiest fantasies and seductive looks and neither of you will last longer than a few minutes! Bonus: Introduce him to a masturbation sleeve. We know, we know, realistic masturbators are icky but it's your lucky day! Like how your favorite vibe won't gross him out by resembling like a competing dick, sleeves come in all kinds of shapes and colors to treat your eyes (and his penis.)
Even if his original intentions were more do-it-yourself, he's probably not going to turn down a little assistance. Take this opportunity to focus completely on him, which can be a red-hot experience all its' own. Use your mouth to suck on his testicles while he warms himself up. Grab his butt, or use the pad of your pointer finger to stimulate the perineum, the sensitive area between his anus and scrotum. You can also use your mouth and tongue to tease his shaft while cupping and massaging his testicles. The possibilities are almost endless. Come up for air long enough to ask him how he wants to finish. (And P.S. there's a good chance this masturbation session is about to turn into sex!)
Be His Private Dancer
If he likes visual stimulation while he gets off, which a lot of guys do, there's no need to be jealous of the babes on the screen. Everyone enjoys porn once in a while, and it can be a healthy part of your solo or coupled sex life. However, he'll appreciate a live performance from his favorite adult actress (read: you!) much more because he can take her to bed after the show. Don some lingerie and give him a lap dance, or get right to the dirty stuff. Show him exactly how you get down when it's just you and a sex toy. He gets to watch you writhe around naked, and you get to watch him in orgasmic ecstasy. Sounds like a win-win situation!
Take His Cue and Do It Yourself
If he hasn't noticed you tip-toeing past the bedroom (or the computer) yet, you have two choices: turn his solo performance into a duo, or have a play session all your own. Living together doesn't always leave much room for privacy, so now is your chance to sneak away while he's happily occupied. Even if your favorite sex toys and lube are held hostage in the same room as your guy, improvise with some pure coconut oil from the kitchen and your ten digits. Choose an extra naughty spot like the living room and he might even catch you in the act after he stumbles out of the bedroom in a post-orgasm haze. He'll be so shaken up by this fantasy surprise that he'll be ready for round two before your first climax!
***

There's nothing to fix about your man's self-pleasure habits – grab something to make it even more fun for both him and for you, when you join in on the fun…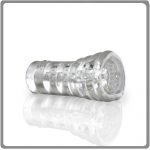 The Head Honcho

If he loves oral thrills, he needs this in his life. Extra thick, easy to grasp and simulates the feel of your own lovely and passionate lips… BUY NOW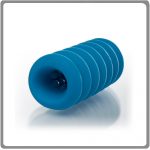 Tickle Kitty's #1 stroker sleeve—open-ended for easy clean up, and triple textured for varied experiences with with soft massage beads, thick ribbing and stimulating pleasure nubs… BUY NOW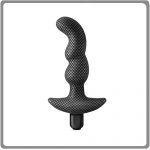 Spark His Spot – Vibrating Prostate Massager
This smooth, curved, vibrating plug will drive him and his prostate wild. Perfect for beginners and pros alike. He'll orgasm like never before… BUY NOW
Drizzle on a dab of Dr. Sadie's specially-formulated, toy-friendly personal lubricant for "glide" the way to wetter sex. Available in Strawberry delicious strawberry too… BUY NOW


Don't Frown on Him Masturbating—Join the Fun!