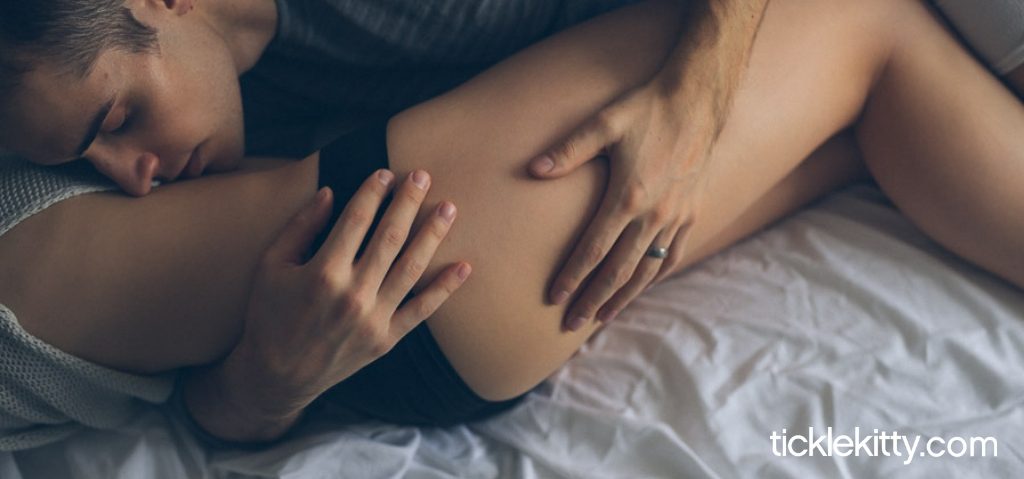 Listen fellas, we know you're fascinated with the female body—butts included. But not all women want their man to explore this region. So if she's willing to give you the key to her backdoor, you better appreciate just how lucky you really are.
You also don't want to rush into things. There are important details to consider, along with a little preparation. But don't worry, I got you. Take a seat and I'll teach you exactly what you should be doing before putting anything near that yummy booty of hers.
Communication is lubrication.
In any sex act—especially anal play, always communicate with your partner to make sure they're comfortable and are enjoying what you're doing. This should be a two-way feedback.
New and nervous?
Insist your lover gets comfortable with the sensations and plays with herself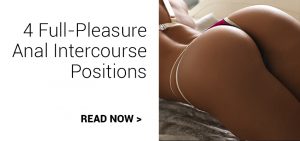 first. She should get familiar with her backdoor and what types of sensations feel good. This will also help her to be able to guide you through your analplay exploration. She'll already have an idea of what she likes and doesn't like.
Always use lube.
This is one of the most important tips about buttplay. The anus does not produce natural lubrication like the vagina, so you must use lubricant to avoid pain or even damage. Like, lots of lube.
Study up on the erogenous zone first—especially if you're new at it.
This erogenous zone requires much more attention to care and safety than others. So being a thoughtful lover, you may want to pick up a copy of my bestselling book Tickle My Tush: Mild-to-Wild Analplay Adventures for Every Booty, which teaches everything you need to know about getting started and enjoying anal sex, safely and pleasurably—with illustrations to make techniques easy to implement.
Practice good hygiene.
This is very important for comfort and safety. Hands should be washed and nails trimmed with no hang-nails. Latex gloves can be used as well and prevent bacteria from being exchanged. Also, showering beforehand with your partner and making sure you're both squeaky clean will put her mind more at ease.
Get her warmed up and increase blood flow.
Getting her warmed up, and loosened up, is very important. And this includes activities you can do before you even think about heading around the backside. Start with other foreplay activities to get arousal up and blood flow to the genitals. This includes kissing, oral, touching, massaging and even some intercourse. This will get her body primed and ready to receive backdoor loving and allow her to feel more pleasure from it.
Give her a sensual butt massage.
Part of warming up can (and should) include a sensual butt massage. Use lube and try these techniques: place your thumbs in the creases where legs meet the butt cheeks and glide your thumbs along the crease from the inner thigh to the outer thigh. Lift and repeat. Then, put your palms together in 'prayer position', place them on her tailbone, then glide up and down her butt crack.
Start with gentle 'outerplay'.
After she's warmed up from other sexual activity, incorporate anal outerplay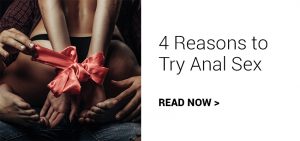 by pressing gently against her anus with the flat of your fingerpad, but don't go inside. This is an amazing tease and wakes up and excites the sensitive nerve endings. You may just find her tight sphincter relaxing, and opening up to your touch.
Go slooowly with finger-play.
Only after she's hot and wet, gently insert just the tip of a well-lubed finger to the first knuckle (just past your fingernail). Then sit still. See how she responds. Remind her to relax and enjoy. Then wiggle your fingertip slowly, moving in small circular motions or going in-and-out ever so slightly. Work your entire finger in slowly, and be sure to re-apply lube as needed. Experiment with the "cork-screw" in-and-out twisting technique.
Toss her salad. "Rimming", that is.
Start with a wet, soft tongue and tap, lick, and swirl around the anus. Then graduate to a stiff tongue, insert it and then relax it, letting it get pushed out naturally. Repeat. Play with her clitoris while doing this and you may just find her begging you not to stop!
Start with an analplay kit that you can both get into.
If you're looking for guidance on how to have safe, fun and pleasurable anal sex, explore the Couple's HotTush Please Kit that comes with everything you need: my bestselling, illustrated Tickle My Tush guide, signature body-safe lube Slippery Kitty, a classic bullet vibrator, and a cute beginners butt plug.
Well gentlemen, if you follow the above guidance, there'll be no ifs, ands, or butts about it—you'll be on your way to giving magical pleasure to a new and exciting venue on your lover's body. Just don't be surprised if anal becomes her new favorite guilty pleasure and she backs dat booty up to you for more and more.
***


Ease your way into backdoor bliss with anal toys from TickleKitty.com: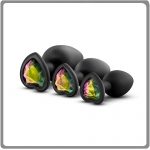 This series of three smooth, tapered butt plugs lets you start small, then move up at your own comfort level and pace. Explore these extraordinary pleasures in style, with the heart shaped rainbow gem base … BUY NOW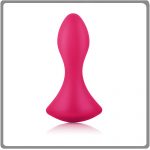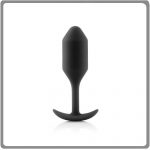 Designed for long-wearing comfort and delightful pressure, this weighted silky smooth silicone butt plug provides an exhilarating, discreet feeling of fullness … BUY NOW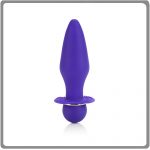 Tease n tickle your sensitive nerve endings with this popular, flared, vibrating butt plug. Complete with pleasure nubs along the base, backdoor bliss is just a click away … BUY NOW
11 Steps to Successful Backdoor Play