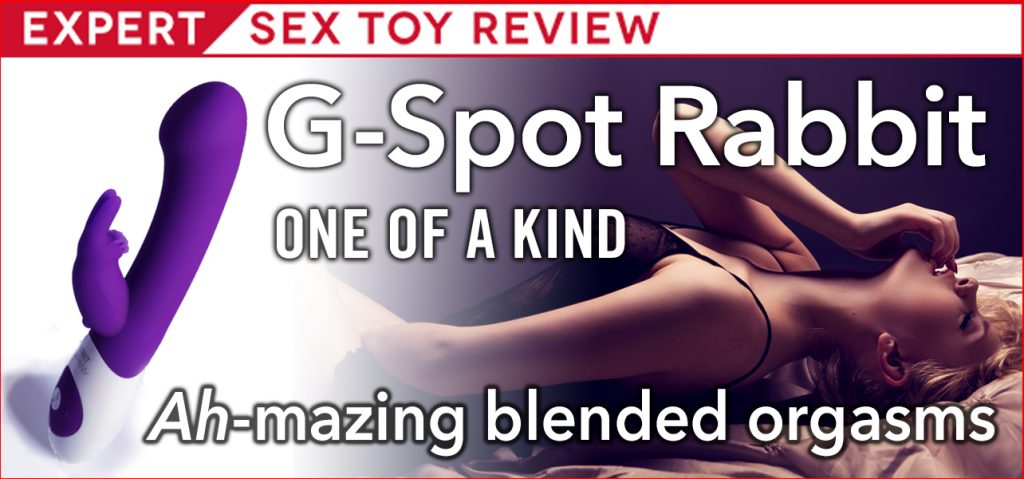 For some women, toys are the most comfortable way to find their G-spot. Whether it comes to solo or partnered orgasmic pleasure, The G-Spot Rabbit from The Rabbit Company is one of my go-tos. I'll admit—I never bought into the whole Sex In the City rabbit vibe craze. I just didn't get the hype. Then the G-Spot Rabbit made me a convert.
First, let's talk about the G-spot. For many, its exact erogenous location is an elusive mystery, a below-the-belt landscape of unexplored territory. It's tucked away about two inches inside the vagina, on the top side of the vaginal wall (toward the bellybutton), just past the pubic bone. It's a web of glands that swell and become sensitive when stimulated. The more turned on you are, the more blood flows to the G-spot, therefore making it easier to find. No GPS necessary.
And I can say I was already pretty turned on before I even unwrapped my new toy.
The first thing I thought was that I wanted to high five whoever packaged this rabbit. Its elegant box is protective but easy to open. Trust me, nothing kills a lady boner faster than having to fight with layer upon layer of sharp plastic.
The toy itself is a dream. For me, size really does matter, and the G-Spot Rabbit measures a generous 8" in length. My vagina fit it like a glove. As for texture, the toy's silky body-safe silicone feels ah-mazing. I've played with this toy multiple times now and have fallen hard and fast for the fluttering "rabbit ear" feature. The cool thing about this vibe is that the internal shaft-and-head stimulator operates separately from the clitoral "rabbit ear" vibrator. Both offer six super-intense vibration options and speeds via one button.
It took some experimenting to figure out how to switch between the various modes and find the perfect combo to stimulate my clit and G-spot.
Once I got the hang of it, I found the "Ascend" and "Oscillate" rhythms to be pure climax gold.
The angled head on this toy, slightly larger than the tip of a penis, teased out powerful orgasms, even more over-the-top than my usual vaginal vibrators. It's a quiet vibe and I felt quite comfortable introducing it to a brand new-to-me partner. This purple powerhouse is also USB rechargeable and comes with a travel lock to avoid any awkward moments at TSA.
Before I jumped into my sexy time fun, I lubed up my rabbit with some water based, silicone compatible lube. As a long time fan, I suggest Slippery Kitty Lube to decrease friction and step up sensitivity. The delightful thing about this vibrator is that it strokes your G-spot, stimulates your clit and gets your vagina all worked up for the best of all worlds. I adjusted the level of vibration as I went and trust me, this vibe feels great with a soft or hard touch.
Some women may require additional clitoral stimulation, whether it's via fingers, toys or a tongue to get the job done. I fall into the camp of needing penetration plus clitoral stimulation to reach orgasm. In Dr. Sadie's book, Toygasms! The Insider's Guide to Sex Toys and Techniques, she writes that for maximum stimulation, many women swear by this dual-action vibrator. Why? "Just imagine pleasuring yourself with a shaft that vibrates and rotates—as well as presses a small vibrating rubber animal on your clitoris," she writes.
These could be the most intense orgasms you've ever had.
This is exactly what the G-Spot Rabbit does.
***
Are you a g-expert? Or want to keep exploring your orgasmic G-spot potential? Let us introduce you to these jewels—some of Tickle Kitty's favorite rabbits to add to your collection.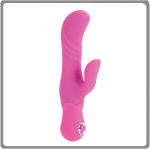 Make pink your pleasure with this powerful vibe's three speeds, easy push button control, and satiny smooth feel. Your big finish will feel like a dream… BUY NOW
LUVIT A Delicious Plaything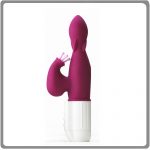 Delight your clitoris and G-spot with dual-action stimulating ticklers and rotating head that will make your head spin, with one of our most unique rabbits… BUY NOW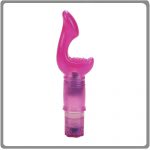 Smaller and sleeker than a full-size rabbit toy, this pleasurizer can make G-spot delights accessible anywhere. Slip it into your bag or pocket for stress relief on the go… BUY NOW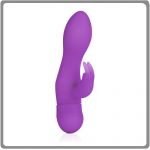 Not too big, and not too small. 10 can't-get-enough settings of pulsation and escalation, and a shaft that bends with you. This bunny will have you jumping for joy… BUY NOW

I Found G-Spot Joy with this Rabbit