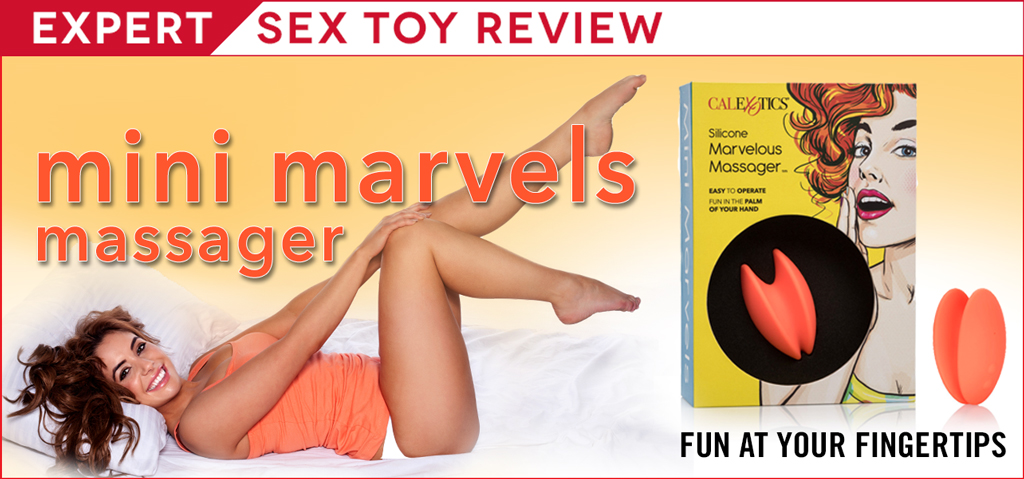 Put pleasure (literally!) in the palm of your hand
When it comes to getting off, sometimes convenience is key. As much as I love my collection of butt plugs, dildos and life-sized vibrators, there's a special place in my orgasm loving-heart for toys I can take on the go.
Cue the Mini Marvels Massager. This palm-sized silicone vibe is sleek, quiet and discreet. And I want to take a second to applaud the packaging. I'm a big fan of Pop Art, and the vintage pin-up feel of the box illustration made me smile right away. But now to the toy!
Its ergonomic design is one of the smartest I've seen.
It slips right between your fingers, so there's no clumsy handling and the entire surface of the toy can make skin contact. Also, it's made from a body-friendly silicone, always an important detail to consider when choosing sex toys.
Although the Mini Marvels Massager offers a lot of options in terms of speed and settings, it's straightforward to use. It's USB rechargeable (no batteries!) and turns on with a quick three second push of a button. When it's fully charged (which takes about 2.5 hours), expect 30 minutes of full-tilt pleasure or two hours on its lowest setting. It features three levels of vibration, as well as seven pulsation and escalation options, so fiddle around with until you find your perfect pleasure combination. I tend to start out slow, and increase intensity as my arousal builds. As a frequent traveler, I appreciate the toy's travel lock. It's a simple feature, but few things are as embarrassing as arriving at a baggage carousel to find vibrating luggage (and I've had many mortifying TSA moments).
I carry the Mini Marvels Massager in my purse – you never know when the mood (ahem) may strike or you need to spice up partner sex. Because this thing is fun for me time, but also with a friend.
This small but mighty vibe works wonders in teasing your partner's sensitive spots.
Think nipples, clitoris, or even the tip of his shaft or base of his cock. It can also provide some much-needed clitoral stimulation during intercourse. The first time I flipped this little baby on, we started by getting to know the toy with some fun foreplay—it fits nicely between my and my boyfriend's fingers.
Then I used it during good ol' Missionary. It didn't slip from position over my clit—even though we weren't shy about the lube! And it wasn't painful during impact like trying to hold a wand against your body during intercourse can be. There are vibrating c-rings that do this job too, but the Mini Marvels Massager is a nice, handheld alternative.
This toy is also waterproof, so you can take it in the pool, tub or into the great outdoors. With its handy size, lightness and durable material, it'll for sure be my toy of choice next time I feel like getting frisky on a camping trip.
For erotic times, this is a highly effective, hands-on vibe that's made me rethink size when it comes to sex toys.
***
Got a taste for petite and discreet vibes? You won't be able to resist some of Tickle Kitty's other favorite handheld toys that'll send you to clitoral orgasm heaven.
You'll be hopping with joy from this petite powerhouse bullet vibe. Tickling rabbit ears for pinpoint pleasure, 10 toe-curling settings, and one of the most powerful motors available… BUY NOW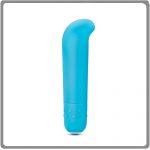 Enjoy yourself inside and out in style. 10 functions for g-spot bliss, an easy one-touch control, and vibrations so intense, it's wrapped in extra-smooth velvety-silicone… BUY NOW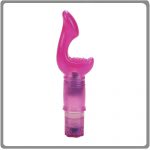 Smaller and sleeker than a full-size rabbit toy, this pleasurizer can make G-spot orgasms accessible anywhere. Slip it into your bag or pocket for stress relief on the go… BUY NOW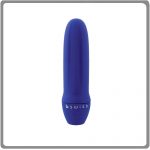 This palm-sized vibe is perfect for first-time toy users. Slip into your bag, and enjoy its orgasmic classic curves on the go… BUY NOW

I Got Big Orgasms Out of this Tiny Toy