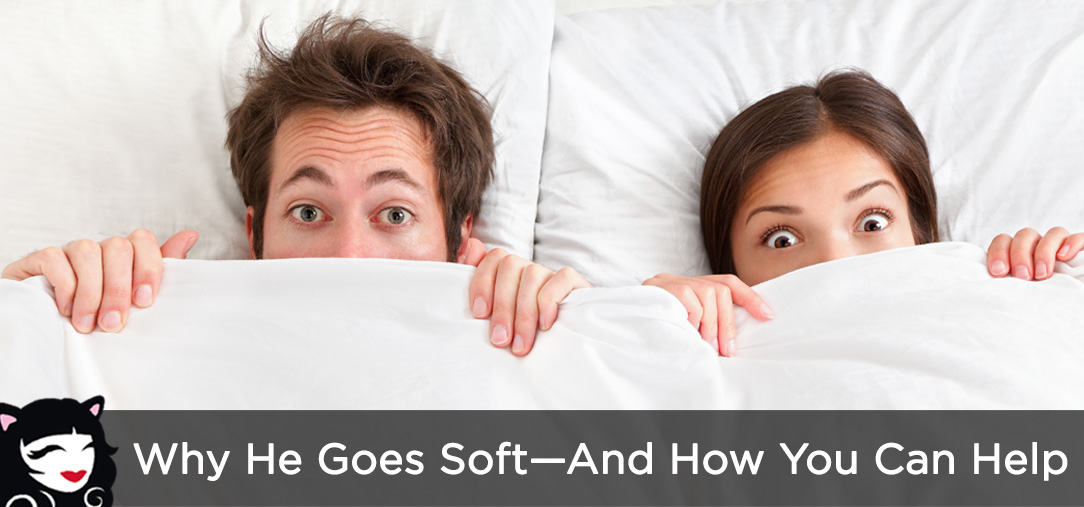 Anybody with a penis will likely come head to head with erectile dysfunction at some point in his life. Whether because of mechanical failure, emotional obstacles, relationship, or health factors, limpage challenges have a way of bringing a good man down.
Here are five common reasons your guy may go soft, and ways to keep him (and his spirits) up.
Whiskey Dick
If he's acting sloppy drunk, his dick may be sloppy drunk too. Drinking too much whiskey (or alcohol, in general) is a sure fire way for a penis to go limpy on his lover. Alcohol impacts blood flow by dilating the vessels so that blood flows into the penis, and out again too quickly. There's literally no time for an erection.
What You Can Do: Beyond kissing and cuddling, give your guy water and a rain check on your rocking good time. Have him write you an IOU and chalk it up to a night out. Or play a game of truth or dare and see what happens when he focuses on something else. If ED and drinking are regular problems, well, that's another story.
Performance Anxiety
He's nervous about your sexual rock star status, or if you'll think his penis is too small. He's concerned that he won't make you orgasm from his magic wand and he really, really wants to be the best lay you've ever had. But because he can't stop thinking and thinking and thinking, he's totally unable to get his member into your exclusive hole.
What You Can Do: Help manage performance anxiety by assuring your partner that sex is a work in progress. Ease his worrying mind by taking the lead with passionate kissing and outercourse play. When you make sex feel less like an oral-intercourse show, you'll also be showing your partner just how fun, adaptable and non-judgmental you are. You can even tell him 'no going inside' – and play away.
Depression
He might be sad and soft, and not in the mood to have sex. And if he's taking an antidepressant (especially one known as an SSRI), sexual side effects are as common as flipping on E! and seeing something Kardashian. These side effects include an inability to get, or maintain, an erection along with an even tougher and more frustrating time ejaculating.
What You Can Do: Indulge in other activities that bring bring you both pleasure. That could mean pleasing you in all the ways you love, and you can be sweet and intimate with him too. Try erotic massage, BDSM, or even strap-on sex. A change of scenery can work too – get adventurous and take him in the car, or spend a night at a hotel. And if SSRI's are the culprit, encourage him to talk with his psychiatrist about the side effects of the meds.
Stress
It's a real boner bummer when stress gets you down. When he's in the high anxiety zone, sex may be the last thing on his mind. Sometimes it's hard to get out of the stress zone, but other types of sex can be a great way to help him de-stress.
What You Can Do: Talk dirty to him and and tell him that you want to suck his dick. Then give his dick a suck. Even if he doesn't get hard, or even if he doesn't get off, it's nice to feel wanted and devoured. You can also turn on some of his favorite porn, do a strip tease, masturbate in front of him… you know his triggers! You might even consider investing in a male strap-on harness. He can wear it above his penis, or get a thigh harness to wear on his quad.
Porn
Porn isn't all bad, and if a person enjoys porn in moderation, that's great. However, young men these days have access to, and often times, consume a lot more porn. This can make it harder for him to get harder, especially if they're handling their business without you a little too often. Not to mention, when you're watching things you can't possibly do in your own sex life, it can create an illusion as to what a satisfying sex life entails.
What You Can Do: If porn seems like a problem in his life, talking about ways to stop, reduce, or limit, his use would be helpful. You guys could also make your own porn and see if that turns him on (Before you do this, discuss what to do with the porn after you've both watched it). If porn is a real problem in his life, he may want to speak to a therapist who specializes in these issues. (Check out AASECT.org for a list of reputable professionals).
Erection resurrection problems happen to the best of dicks. It may take time, medical help, or a therapist to help him get back to hard, and as a partner your interest and involvement in changing things up is super helpful. So go out there and carpe dickum!
***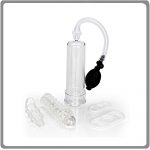 For any occasion, give your boo the gift of you—bigger and better than ever! His Enlargement Kit comes with enhancement three ways: two slip-on supports, a pump and two stretchy c-rings… BUY NOW
WOW! Turn a real livin' penis into a true lovin' vibrator—with lusty clitoral pleasures for her, and deep hummmmmming pleasures for both… BUY NOW
Tickle Kitty's #1 stroker sleeve— open-ended for easy clean up, and triple textured for varied experiences with with soft massage beads, thick ribbing and stimulating pleasure nubs… BUY NOW
This powerful ring's stretchy, comfortable silicone will fit like a dream, and its soft precision points will rumble her pleasure button to orgasmic bliss… BUY NOW




Why He Goes Soft—And How You Can Help