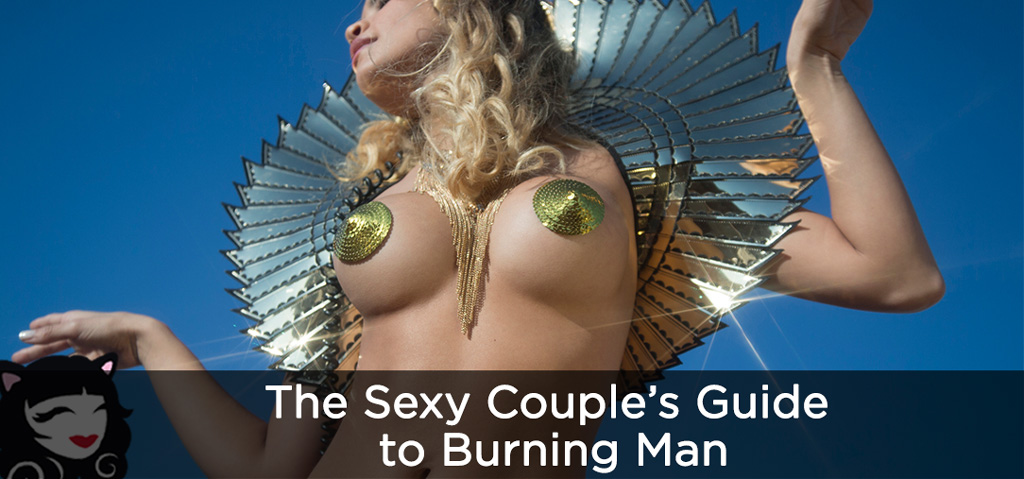 Summer is in full swing, and couples are non-stop Instagramming #ThrowbackThursdays with their best selfies from Coachella, Electric Daisy Carnival, and Lighting in a Bottle. The festival line-up grows every year and becomes a tradition for couples who love to immerse themselves in the freedom of artistic expression.
The close of festival season is marked by the end-all, be-all celebration of music, art, and radical human beings: Burning Man. This week-long August event in the sweltering Black Rock Desert of northern Nevada isn't for the close-minded or the weak of disposition. In fact, even calling it a "festival" is a misnomer, and doing so always brings swift heat from veteran attendees (known as "Burners," for the uninitiated). Burning Man is a temporary intentional community comprised of just about every walk of life, from artists, engineers, and musicians to entrepreneurs, 9-to-5-ers, and other bohemians of sorts. Traipsing around this community's "streets" is like stepping into a literal Alice in Wonderful scene, complete with 2-story tall creatures, Mad Hatters handing out mysterious drinks, and character encounters that defy reality.
The goal of Burning is more complicated than the pursuit of fun. There is scarcely a "Burgin" who returns without grandiose tales of mind-awakening, life-changing experiences, both for better and worse. Venturing to The Burn is a big undertaking for couples who are new to the event. In the words of Depeche Mode, "it's more than a party," and expect your boundaries, brain, and social norms to be questioned and tested. If you're up for some serious growth in your relationship, Burning Man can be an incredible place to give and receive love and feel a heightened sense of sexual electricity. Before you take the dusty plunge, prepare yourselves with open, honest communication and set the stage for a spark-igniting Burn.
Discuss Limits and Hypotheticals
If you can dream it up, it probably has happened or will happen at Burning Man. "What if my boyfriend is propositioned by a harem of beautiful women dressed as sexy kittens who all want to sleep with him?" "What if my wife meets a a Jared Leto-look-a-like (or actually Jared Leto) who calls her Goddess and wants her to lead him around all week on a leash?" Burning Man is a place where sexuality runs wild and nothing is taboo. At some point throughout the week, you or your partner are likely to be the focus of flirtation and attention (and probably vice versa). If you're already in a less-than-traditional relationship, this might not be such a big deal. If not, it's imperative to discuss how to keep your week from ending in a jealous rage. Discuss your feelings and possible reactions for something as simple as a long, tight hug from a sexy stranger to being asked back to someone's tent for the night. Look deep and decide upon what you want to explore, like exhibitionism, and what is completely off-limits, such as kissing another person.
Get Ready to Explore
If you do decide to step outside your usual sexual comfort zone, you've got a lot of options. For those that have sexually exploration goals, like couple-swapping, joining an orgy, or embracing your bi-sexuality, this is the place to find like-minded interlinks. Don't try too to hard to find willing participants, as this will scare off potentially interested people and goes against the super-important rule of consent. Instead, wander the Plays, engage others in friendly conversation, and eventually someone will point you in the direction of the Orgy Dome. Considering that Burning Man is made up of around 80,000 humans you've never met, protection is key. If there is even the tiniest chance of you and/or your partner hooking up (or even if there isn't – for now!), have male condoms on hand at the very least. You can have even more fun if you've also got female condoms and dental dams.
Feel the Vibe
The minute you hug the gate-greeters and begin the slow drive to scope out a camp site, you'll know: this ain't Coachella, Part 3! Burning Man carries a heavy vibe that effects everyone differently, and sometimes it takes a day or so to get used to the atmosphere. With your per-Burn boundaries conversation in mind, make your way around the sculpture art, giant theme camps, and impromptu dance floors. Don't be afraid to smile at everyone you see and ask for plenty of hugs. Once you're feeling the good vibes, you might decide to ride the wave of sexual energy and go check out the Orgy Dome after all. Or maybe it's all a bit much for your first time, and you're not feeling up for making the decision to watch your partner make out with someone new. Even if you choose the latter, you can still have a ton of sexy fun with your significant other.
Celebrate Each Other
If you and your partner pick the monogamous route, think of Burning Man as a white-hot fire of sexual energy just waiting to be absorbed. It's the ultimate playground where couples can express their love and lust for one another. Take a naked walk hand-in-hand, or find a cute couple to flirt with at a camp bar, or get off on being as loud as you want while having sex in your tent or camper. You can even have a Burning Man Wedding (which isn't an actual legal ceremony) and exchange vows in your bathing suits or topless while wearing g-strings. When the giant Man effigy finally burns down, look your partner in the eye, make out like teenagers, and embrace the experience of growing closer together by opening up to the sensual power of Burning Man. And of course, don't forget to bring all your favorite playtoys, and maybe a few news ones too*
***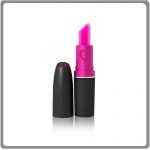 For a sweet, discreet "O" on-the-go, keep this undercover vibe in your purse! The ultrasoft silicone flex tip will caress your sweet spots, whenever – and where ever you like… BUY NOW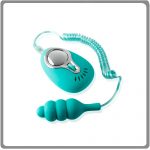 This powerful triple-curved bullet is contoured for pleasure. Adjust the variable speed dial, for your personal pleasure setting. A perfect way to start the day… BUY NOW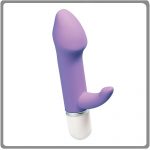 A sensual shape designed for maximum G-spot stimulation, a flexible tickler for teasing and pleasing in all the right ways; what's not to love?… BUY NOW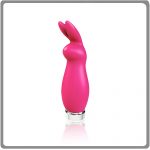 You'll be hopping with joy from this petite bullet vibe. Tickling rabbit ears for clitoral pleasure, 10 toe-curling settings, and one of the most powerful motors available… BUY NOW

The Sexy Couple's Guide to Burning Man