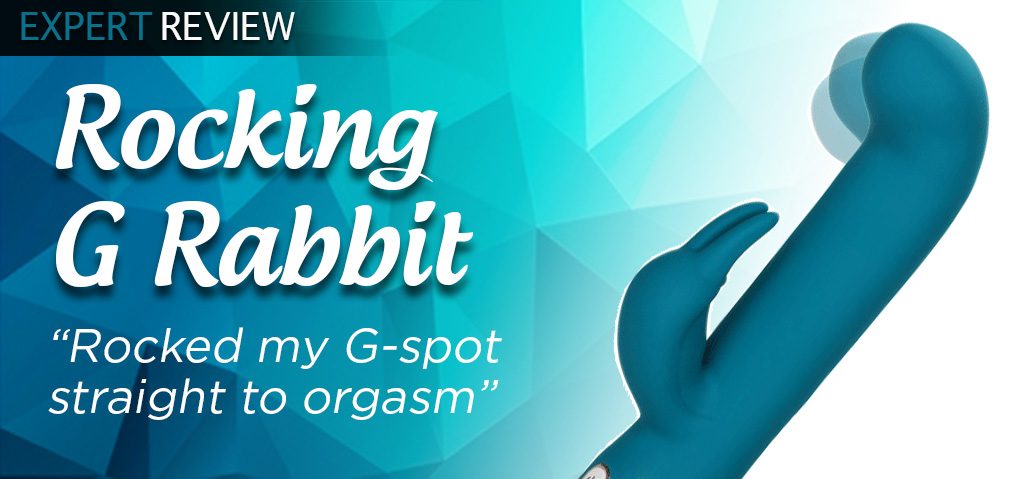 Nothing says Happy Valentines Day like the Rocking G Rabbit. The "precision G-spot technology" will lure you in—hook, line and sinker. The way the curved head rocks back and forth in a "come hither" motion literally made me scream in delight. And those bunny ears, yeah those took me to the edge and back. But, I'm jumping ahead of myself…
The hubby and I decided it was time to do a throwback to the wild and crazy days of making out in closets. We called our game "seven functions for seven minutes in heaven." The idea was that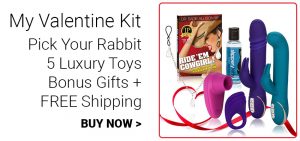 we would use each of the seven functions on the rabbit ears for one minute and one minute only, while also allowing the continuous rocking head to move around inside of me.
We had just received our Valentine's Day gift to ourselves—Dr. Sadie's "My Valentine Kit" from our favorite sex toy boutique. It came equipped with a variety of 5 luxurious sex toys, a free sex positions book, and free Slippery Kitty Lube. We got to choose which rabbit toy we wanted of two options: the Self-Thrusting and the Rocking G. I left the choice up to my husband, and I was more than excited to see if he had made the right choice.
The night before game night, we charged the rabbit. It's not only USB Rechargeable, but it has a sealable port for waterproof play. The next night, my husband led me to our bedroom closet, which we decided was the perfect place to reenact high school makeouts, put on a blindfold, and shut the lights.
He removed my panties and slid a finger inside my already wet pussy. He slowly lifted up my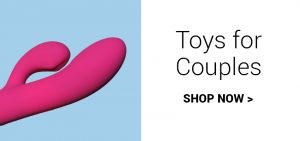 nightie, and pressed me to the floor. With my back against a wall, my husband carefully lubed up the toy and spread my legs wide. He took the shaft of the rabbit and teased the tip of my clit. Slowly moving the bulbous part of the head down in between my inner lips, he gently slipped the shaft inside. He turned it on for a few thrusts and then shut it down completely.
For the first two of the seven minutes, we moved the rabbit independently, the ears building up strength and becoming stronger in vibration. At that point, I wanted that rocking cock inside of me. And as he turned the shaft on, my body began to loosen. The sensation of the smooth tip massaging my g-spot was unimaginable. Minute-by-minute and moan-by-moan, we made it through all seven functions.
Between the seven functions on the clitoral stimulator, and three more on the shaft, you can have a whole lot of sexy goodness and never do the same thing twice. And that rocking head—it's a game changer.
***

Tantalize your lover this Valentine's Day with pleasure gifts from TickleKitty.com: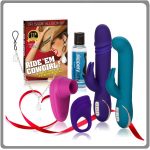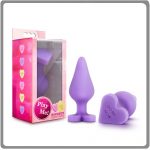 "Do Me Now" Valentine Butt Plug
If your lover's backdoor could whisper one sweet nothing to you, what would you hope it would say? "Do me now." Make your dreams come true with this silicone purple pleasure … BUY NOW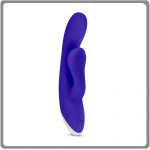 With a gracefully curved shaft that flexes in harmony with you, and a soft clit tickler for enticing sensations, this is your go-to rabbit … BUY NOW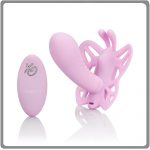 Simply wear it underneath your panties with it's exciting soon-to-vibrate probe inside you, hand the wireless remote to your lover, and head out for your most thrilling orgasm adventure ever! … BUY NOW
The Rabbit that Literally "Rocked My G-Spot" Straight to Orgasm