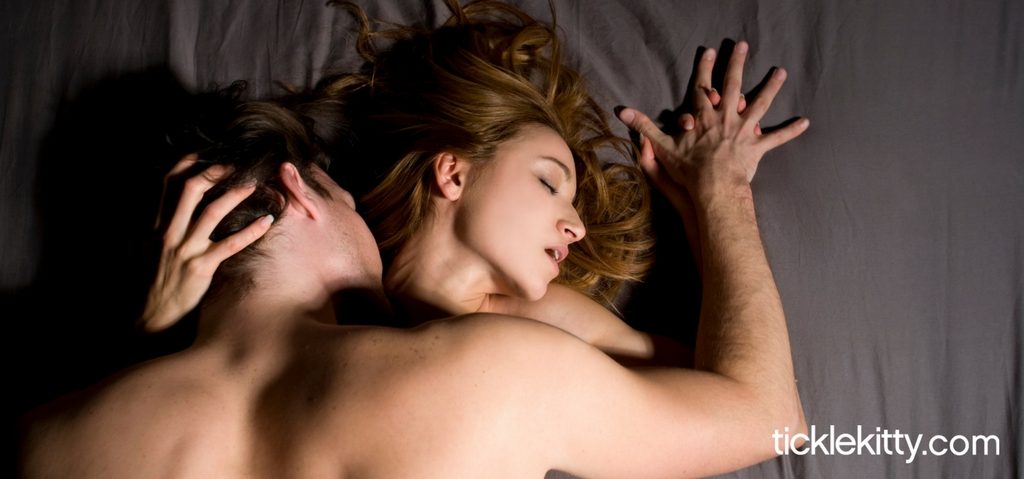 Guys, ever wish you'd last longer and feel stronger during sex or masturbation? Introducing the cock ring, also known as a c-ring, erection ring, or penis ring. These performance-enhancing toys achieve universally-desired benefits of increased stamina, a bigger penis, enhanced sensitivity during lovemaking, and more explosive orgasms. As a natural alternative to pills and supplements, they are heavily marketed to those with a penis, but they also offer titillating stimulation for any sexual partner. For example, cock rings increase the chances of simultaneous clitoral and vaginal orgasms for her. Physical benefits for him range from transforming the look and feel of a penis, while providing a boost in sexual confidence. How sexy is that?
How they work: during an erection, the penis fills with blood, which keeps it firm. A cock ring, secured around the base of the penis, keeps the blood strictly in the shaft, resulting in an engorged look and feel. Wearing a penis ring doesn't completely cut off circulation; it just slows it down and keeps it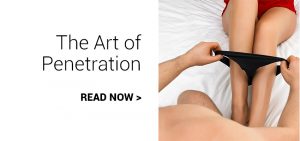 localized. The restriction of blood can help endurance, prevent premature ejaculation, and enhance every sensation on a thicker, bigger shaft. Having a cock ring wrapped snuggly around the penis also leads to more intense orgasms, as the ring squeezes the shaft, forcing built-up pressure to be released during an explosive orgasm.
For those new to cock rings, the first step is to determine the right size and fit. Beginners usually opt for a set that includes multiple sizes like the RingO Pro X3, giving the option to pick and choose a comfortable size while achieving rock-hard results. Regardless of material, any ring will easily slide on with a spot of lube; just a little dab will do ya.
For those who want something a bit more complex, c-rings frequently come with a vibrating bullet. The genius of adding vibration to a cock ring is that it turns the penis into a real-life vibrating sex toy. A fitted vibrating ring provides a snug fit for him, and an attached vibrator stimulates her clitoris, no matter what position. The Ultimate Lasso is a fully adjustable design, resembling a bolo tie for the cock & balls, with side strands that loosen or tighten with a sliding attachment. This soft, pliable ring has a removable bullet for mutual pleasure if you decide the ring itself isn't your thing.

The simple yet stylish Tux is a stretchy, studded vibrating ring with an unassuming look, effortlessly outfitting the penis. Grind on it while on top or ask him to push it harder into you during missionary. Similarly, the Duet Passion Enhancer is also a snug-fitting ring featuring a bullet with a raised texture to tease 'n tickle the clitoris and labia. A decadent vibrating ring like The Wave features a waterproof design, with a thick, cushiony clit stimulator and ripples that deliver all-over sensations for her and him. When flipped upside down, it will externally tickle his prostate for a truly surging finish. This type of ring is an awesome introduction to mild prostate stimulation without penetration.
A good intermediate option is The Tongue Lover, with two well-fitted loops, and a strategically placed mini tongue to hit the clit. The small inner ring wraps around the shaft, and the larger ring wraps snugly around the balls. This extra-secure fit keeps blood in the penis and enhances every sensation for him, while letting you enjoy clit stimulation and penetration at the same time.
If your desire is maximum firmness, a weighted ring will ensure the tightest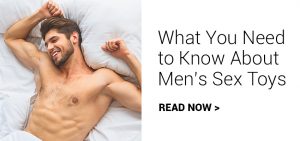 possible fit. A weighted ball hangs and tugs from the Weighted Lasso, keeping the ring cinched as tight as possible without causing pain. The fully-adjustable ring promotes a rock-hard feel and explosive climax. Since the design is adjustable, it accommodates any size!
Think you're too advanced for a cock ring? The versatile Couple's Reversible Ring will make you think again. This ring has two different shaped vibrating clit stimulators on each side, making it fully reversible to flip around or upside down. Once fitted around the penis, the top loop becomes a finger-sized steering wheel, giving you 100% control to put the clit stimulators where you please. To pleasure his cock, balls, and everything in-between, place the larger ring around the balls and the smaller ring around the base of the penis. The vibrating bullet will rest on his taint to create a magical triangle of pleasure.
With a world of design options and hardly any sex toy experience required, there isn't only one cock ring to rule them all. This quintessential couple's toy is the total package!
***


Climax together with more cock rings from TickleKitty.com :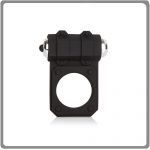 Slip on this soft, stretchy, buzzy penis ring, and slip into pleasure. Designed to maximize pleasure for both you and your lover … BUY NOW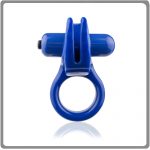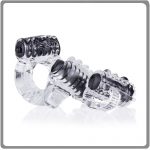 Be your lover's hero! A mini tongue vibe, a stretchy c-ring and handy fingertip vibe are everything you need to buzzz your lover to an unforgettable orgasm … BUY NOW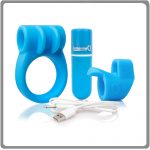 Climax Together With Vibrating Penis Rings