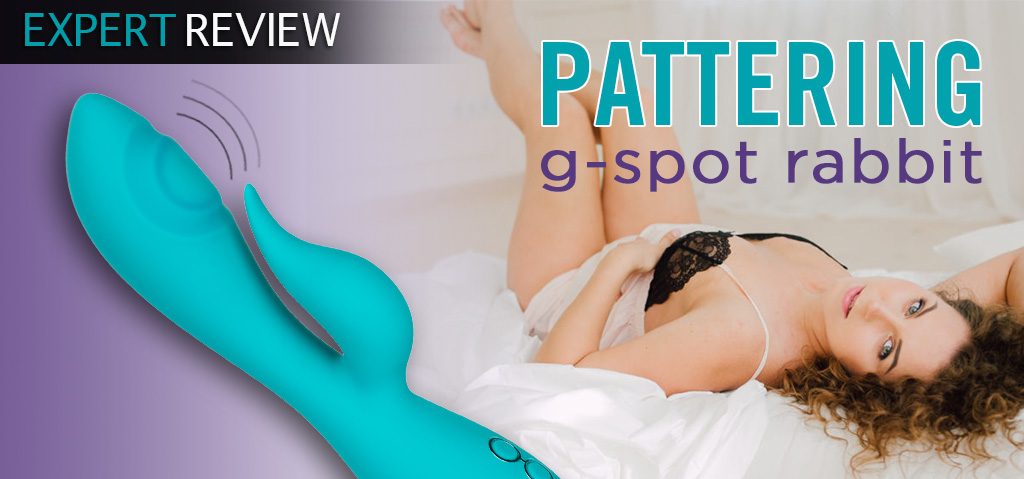 I receive a lot of sex toys. Like, a lot. In fact, I have a whole bottom drawer full of them. That's been one of the perks of writing about sex for the past five years. But, sadly, it's been a perk that has been lost on me. I'm terrified of complex vibrators.
Wait…what?
Yes, you read that correctly. No, I am not a virgin. Far from it. I love sex. I have had all sorts of epic, mind-blowing, trance-like sex. With multiple partners. I've even gone to sex parties and had sex in front of other people. Point being, I am not a prude.
But in the absence of a relationship or a penis for the night, I've always had one vibrator that manages to do the job just the way I like it. No muss, no fuss. Just a solid, strong orgasm to call my own. Ornate vibrators always freaked me out. The phallic shapes with neon colors, the various appendages that vibrate and swirl and light up. It all seemed a bit…much.
So when I unwrapped the 'Pattering' G-spot Rabbit I admittedly cowered in fear. But curiosity got the better of me. So I unwrapped the package. First touch sent shivers through my fingertips—so silky soft. A little bit of porn and a little bit of lube and I was ready to give it a whirl.
I rubbed a small amount of lube on the tapered head of the massager. After a few minutes of light-stroking nipple play, I felt myself getting wet and relaxed enough to slide the head of the toy inside me. I was nervous, to say the least. But with a little bit of pressure, the 'Pattering' G-spot Rabbit slid inside me with a nice and tight fit.
Three buttons on the base of the toy control the various vibrations. The middle button controls a vibrating, rotating pad on the bulby g-spot tip of the vibe. The bottom button controls the various vibrating speeds of the clit stimulator, which perfectly teases the clit while the vibrator is inside. For the first few minutes I played with only the clit vibrator, while I used my hand to rub my nipples, which tends to be the way that gets me insanely worked up. If you want to make me have a blackout orgasm, that's the way to start. I figured it would be similar with a vibrator.
I figured right.
After a few minutes of teasing my clit with the pulsing on-and-off of the clit vibrator I was ready to take the plunge with the G-spot massager. I was nervous, admittedly, and maybe not as relaxed as I could have been. But once I felt a bead of moisture trickle down the shaft of the toy, I knew that I was insanely turned on, and I was ready for a G-spot orgasm—something different than I'd felt before.
I slowed the vibration on the clit vibrator, because I felt myself about to come and I knew there were so many more functions to explore. Because the rechargeable massager has 10 vibrations and three pulsation speeds, I knew I needed to take my time.
I started to feel my body get hot, like it usually does when I'm pleasing myself the way I know how, and I could tell my orgasm was building. The added motion of the unique, pattering, G-spot stimulator was smooth yet intense, and coupled with the external vibrator, my back began to arch and my toes began to curl. Eventually I felt my pussy start to loosen up for the shaft inside of me, which only made the pattering motion on my G-spot even more intense, especially as I did a gentle rotation with the shaft, slowly pulling it in and out and turning it slightly to the side to hit all the right angles.
Between the 10 vibration patterns and three pulsation speeds, I feel like I've barely scratched the surface on what the 'Pattering' G-spot Rabbit is capable of. And, believe it or not, once I find the combination I like, the vibrator will remember the correct setting to get me off to my liking. Every. Single. Time.
So maybe I wasn't a vibrator girl before. But I clearly see that I have missed a memo. And I am moaning to catch up.
***


Enjoy other dual-stimulation rabbit vibrators from TickleKitty.com: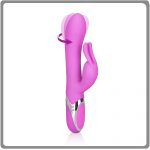 Not your average rabbit vibe. A tip that twirls, a shaft with rotating beads, and long clit ticklers for the perfect triple-stimulation experience … BUY NOW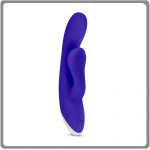 With a gracefully curved shaft that flexes in harmony with you, and a soft clit tickler for enticing sensations, this is your go-to rabbit … BUY NOW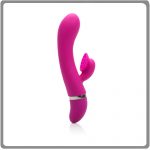 A brand new vibrating pleasure toy with a wide clitoral scoop to accommodate all anatomies, 12 intense functions and a state-of-the-art memory chip that records your favorite vibration setting … BUY NOW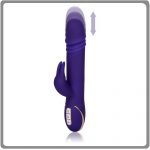 While most other rabbits buzz and whirl, this one has a tip that will give you the thrusting in-and-out motion you crave. Combine it with the vibrating clit tickler to hit all the right spots … BUY NOW
This Vibe 'Pattered' My G-spot to Orgasm