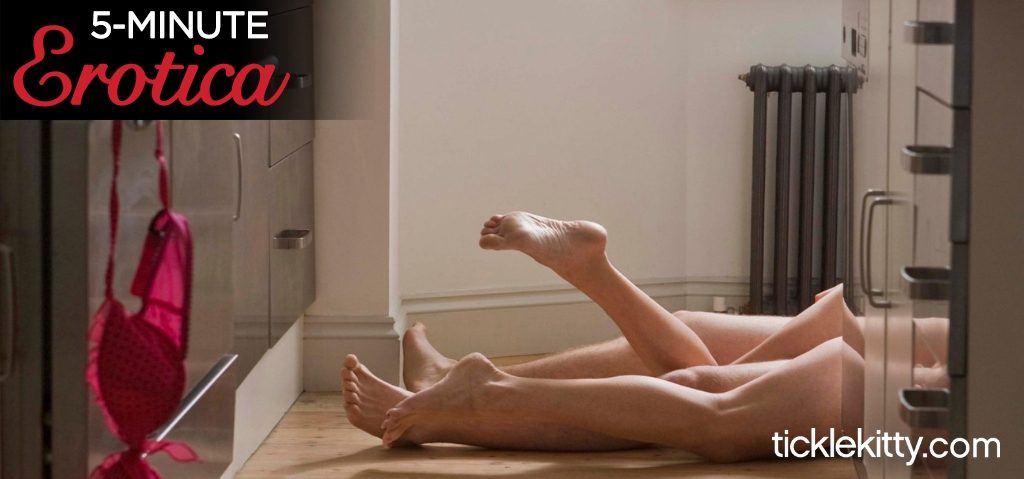 The rich smell of turkey, ham, and other delicious delights wafting through the condo nudged Stan awake. Carol would have been up at the crack of dawn—literally—because their annual holiday dinner was her favorite meal of the year to prepare. She was fine with doing all the cooking because she discovered early in their marriage that the best way her husband could help her in the kitchen was to stay as far away as possible. Their deal was that as long as he took charge of everything else to do with entertaining their guests, he was free to spend the day however he liked. His plan was to have a leisurely breakfast, run a few last-minute errands, watch some football, then get everything together for the guests.
Fortunately, it was a glorious December day. If it wasn't too windy, maybe everyone could have drinks and chat on the couple's huge deck. He went into the kitchen to grab his coffee, kissed his wife—being careful not to interrupt whatever she was doing—and headed for the deck. He wanted to make sure it wasn't too cool or too breezy.
"Baby. I could really use your help." Carol's voice rang from the kitchen.
"Be right there, sweets."
He sprang up. He always felt guilty at how much his wife shouldered the burden for the holiday feast. He was thrilled to actually be able to do something in the kitchen.
He walked up to her as she was kneading some dough.
"OK, this is going to seem really stupid. I need you to scratch my nose."
Stan scrunched up his face. "Scratch your—"
"Stan! Will you please just do it!"
He quickly reached over and obediently scratched her nose as she continued to knead the dough. She let out a deep sigh of relief.
"Thanks. That was killing me."
He laughed. "Would you care to explain what kind of baking emergency I just helped with?"
She smiled. "When we were in Venice last summer and I was studying those 15th century manuscripts in the library, I found the oddest thing. A bunch of recipes, of all things. Recipes! One of them is for the bread I'm making. It calls for some really unusual spices, and you knead it twice as long as usual—about 20 minutes. It's also critical that once you start kneading the dough, you can't stop—not even for a second. And you can't vary the rhythm at all. As you can imagine, it's really tough to do. I did a test bake last week, however, and the bread tastes amazing! I'm only about half way through, so when my nose started itching, I couldn't stop to scratch it myself. Fortunately, my man-servant was there to save the day. Sorry to have interrupted your coffee."
"I was happy to be of service." He headed back towards the deck—then stopped. He turned around and admired how focused his wife was on the task at hand. He also admired how nicely her black yoga pants, uncovered by her apron, hugged her beautifully toned ass.
"Let me get this straight," he said with a frisky tone she couldn't miss. "You can't stop kneading that dough for the next ten minutes, or the bread will be ruined?"
She knew what that voice meant. "Stanley Bartholomew Wolf. If you know what's good for you, you will go back to the deck this very moment!" She tried to sound like a stern prison warden but couldn't. She found her husband's playfully naughty side irresistible.
"You don't understand," he pretended to be reassuring. "I want to help. I've been watching you, and I understand the rhythm. Knead. Knead. Knead. Turn. Fold. Knead. Knead. Knead. Turn. Fold. I'll call out the rhythm, so you don't even have to think about it." By now he was standing directly behind her. He untied her apron, slid his hands under her t-shirt, and began massaging her ample breasts.

"What are you—"
"Knead… Knead… Knead… Turn… Fold. Come on. Pay attention. I'm just mimicking the way you're kneading the dough. Isn't this a fun way to make bread?"
She giggled. "OK. You have a point."
After a couple of playful, but matter of fact rounds of instructions, he murmured sensuously in her ear. "Knead … Knead … Knead … Turn … Fold." He kissed the back of her neck and squeezed her breasts in the way that always made her crazy. Her nipples stiffened against his palms.
"Stanley. That's not fair. You're going to ruin the bread. Stop it." She protested breathlessly.
"Knead… Knead… Knead… Turn… Fold." He continued massaging her breasts, then pressed his hard cock against her behind.
She let out a deep sigh and kept on kneading. "You devil, you. Stop it!"
"Knead… Knead… Knead… Turn… Fold. You're doing great. Just keep working the dough."
"Stop! Please!"
He let go of her breasts.
"Thank you."
She spoke to soon.
In an instant, he pulled down both his pajama bottoms and her yoga pants. He slid his rock hard, veined cock between her legs. It nestled between her warm, wet lips.
She moaned deeply, her heart pounding. Her body instinctively pushed back trying to help the shaft find its home. Somehow, she kept kneading. "Jesus, Stan! Please stop! You're killing me, and you're going to ruin the bread. Please," she begged.
"Knead." His shaft slid against her slick, swollen labia. "Knead." [stroke] "Knead." [stroke] "Turn" [stroke] "Fold." [stoke] With each beat, his penis got more covered with her slippery juices. He squeezed her breasts hard.
A timer dinged. She collapsed onto the counter. "OK, you son of a biscuit, I'm so turned on I can't see straight." She stuck out her ass. Her ruby lips glistened. "Put me out of my misery."
Her husband grabbed hold of her hips. He slid deep inside her tight pussy, now drenched by her juices. He leaned hard against her, and the couple remained still. They let out guttural groans of relief.
After teasing his wife for as long as he had, he knew he'd be in trouble for the rest of the day if he didn't get down to business. One of the joys of marriage is that he knew exactly how to bring her body to ecstasy. In this standing position, she loved a combination of short and long strokes, and it was guaranteed to hit her G-spot. He started with three short stokes, where just the head of his cock penetrated her. These were followed by a fourth deep stroke where his cock went as far as it could. The tension of the three short ones made the deep one feel amazing for both of them. His pace was slow, but consistent. The rhythm was excruciatingly perfect. After each set of four, Carol moaned, "Oh, Stan. Give it to me." But each time, her voice was different—higher pitched, faster, more tense. When it became 'pleading,' Stan added his own encouragement. "Come on my cock, babe. It feels so great when your pussy pulses all around it. Come on my hard, hungry cock."
It was as surefire a recipe as what Carol used with the bread. "God, Stan, I'm going to come. Fuck me, you sexy man." As soon as his shaft penetrated all the way inside her, her pussy clenched tightly and spasmed around her husband's shaft. Stan couldn't hold back any longer and came deep inside his wife. They moaned loudly. Their bodies shook. Carol lay bent over top of the counter; Stan, on top of her.
After they calmed down, Stan stepped back and began pulling his pajama pants back up. As his wife turned around, she stepped out of her yoga pants, removed her apron and t-shirt. Standing naked, she wagged her finger at her husband. "I don't think so, you devil. I've told you before, don't start something you can't finish."
"You do know I'm not 20 anymore, don't you?" he laughed.
"Leave that to me," she winked.
She quickly removed his robe, pajama top and bottoms. Folding the robe and putting it in front of him, she knelt on it. She took his flaccid penis in her mouth, sucked on it to a very specific rhythm, and squeezed his balls to the same rhythm. Two minutes later, it was impressively hard.
"Wow! How?" Stan sputtered.
"Explanations later. Right now, you got me so horny, we're not done."
She pulled her husband onto the kitchen floor. "Now it's my turn. I'm going to fuck your brains out."
Straddling him, she mounted his rejuvenated cock. She let out another deep moan and began circling her hips around his rock-hard shaft.
The way her warm, wet, tight pussy gripped and massaged his cock as she spun her hips made him feel like he might come again at any second. "That feels amazing," he moaned.
She leaned forward with her hands on Stan's chest. "OK, cowboy. I'm going to fuck your beautiful hard cock until it gives me a great orgasm, erupts inside me, and fills my pussy with your cum."
Unlike the slow, rhythmic lovemaking they enjoyed against the counter, this was raw fucking. She slammed down on his stiff shaft over and over, grunting each time with a primal glee. She was lost in the moment—on a mission to fuck the two of them to ecstasy.
Stan loved seeing his wife like this. She was neither his recipe-collecting wife nor the serious researcher everyone knew on campus. She was a woman who loved to fuck and wasn't embarrassed to show it. He knew he was remarkably lucky to be married to her.
He'd love to have lasted longer. It was a perfect moment. But—the sight of this amazing sex goddess riding him, how great his cock felt being home in her wet pussy, and the sound of their bodies slapping together from the juices of their passion—it was more than he could handle. His penis swelled, twitched and he came. He bucked hard and jetted into her again. She spasmed around his cock at the same instant. They both screamed incoherently as their bodies shook.
As their heads cleared, they kissed lovingly.
"Don't let anyone tell you," Carol smiled coyly, "that 15th century Venetian medical manuscripts don't contain some hidden secrets."
"You mean. That thing you did. That was in the manuscript?"
"That's right. And if you're a good boy, maybe you'll find out that I picked up some other things as well."
***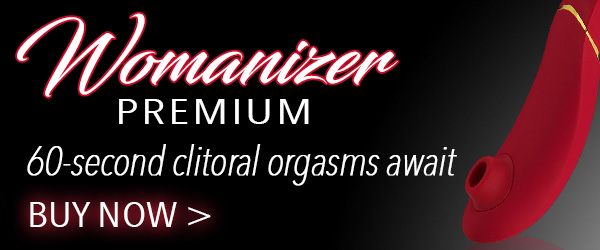 Enjoy your own sexy holiday fun with gifts from TickleKitty.com: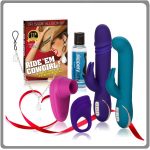 My Valentine Kit – Pick Your Rabbit!
Give the gift of pleasure with 5 luxury sex toys, including the 60-second orgasm Womanizer and your choice of a rabbit vibrator. Two free bonus gifts. Free Shipping. Save 30% … BUY NOW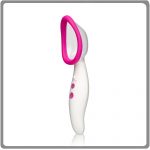 Enjoy heightened arousal, visual stimulation, and stronger orgasms from this luxury vibrating pussy pump. It simultaneously draws you in, then vibrates you to an incredible orgasm … BUY NOW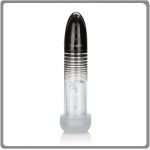 Optimum Automatic Smart Penis Pump
Increase stamina, size, and endurance with the touch of a button. Not only does this pump improve your sex game, but the suction chamber makes an orgasmic penis stroker. Everything in one luxurious package … BUY NOW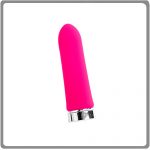 Don't be fooled by it's petite size, this vibe packs a powerful punch. Perfectly palm-sized and made of premium body-safe silicone, this is more than just your average bullet vibe … BUY NOW